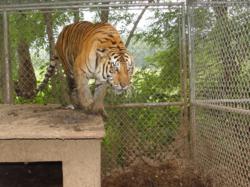 The tragedy in Ohio was a public safety nightmare and highlights the urgent need for a ban on privately-owned tigers in this country.
Washington, DC (PRWEB) October 20, 2011
The tragic situation in Ohio has prompted World Wildlife Fund (WWF) to today call for a ban on private ownership of tigers. According to WWF, there are more tigers in captivity in the United States (an estimated 5,000) than there are in the wild (as few as 3,200). The vast majority of captive tigers in the U.S. reside in private hands, not in accredited zoos or circuses, which are well regulated.
Lack of regulation of tiger ownership in the US results in inability to track how many tigers are being bred or born each year, how many may die (naturally or otherwise), or what happens to tigers or their parts when the animals or their owners die. This is evidenced by the shock of local authorities when they were confronted with 18 unregistered tigers roaming free in the Ohio countryside and were forced to use lethal force to protect public safety. By making such private ownership illegal, tragedies like one outside of Zaynseville, OH can be averted in the future.
WWF has been engaged in efforts to improve the regulation of captive tigers in the United States for years. Without a comprehensive, federally-regulated system in place, tigers in the U.S. can become an easy target to be sold to the multimillion dollar international black market for tiger parts, stimulate demand for tiger products, and further threaten wild populations by putting them at increased risk of poaching.
"The tragedy in Ohio was a public safety nightmare and highlights the urgent need for a ban on privately-owned tigers in this country," said Leigh Henry, Senior Policy Advisor for Species Conservation. "In addition to safety issues, captive tiger populations can have a direct effect on the demand for illegal tiger parts around the world, resulting in increased poaching. We have a responsibility to close these loopholes, protect the public and save one of the most magnificent species on the planet."
WWF is calling for:

a ban on private ownership of tigers in the U.S.
the US Department of Agriculture to require all people and facilities with existing USDA licenses for exhibition or breeding/dealing in tigers to report annually on the number of tigers held, births, mortality, transfer, or sale. This information should be kept in a distinct database and made available for public review.
Key Facts:

26 states have laws banning the possession of tigers in private collections and other states need to match that commitment to protect people and animals
8 states don't have any laws at all on tigers: Alabama, Idaho, Ohio, Nevada, North Carolina, South Carolina, West Virginia, Wisconsin
16 states allow for the keeping of tigers by individuals but require a state permit or registration
ABOUT WORLD WILDLIFE FUND
WWF is the world's leading conservation organization, working in 100 countries for nearly half a century. With the support of almost 5 million members worldwide, WWF is dedicated to delivering science-based solutions to preserve the diversity and abundance of life on Earth, halt the degradation of the environment and combat climate change. Visit http://www.worldwildlife.org to learn more.
###