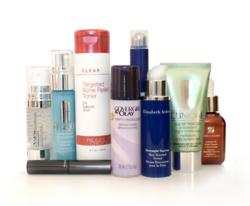 We've all bought expensive products that sucked.
Seattle, WA (PRWEB) October 24, 2011
Tired of wasting money on overpriced and ineffective makeup and skin-care products? Promises of a fountain of youth in a jar are hard to resist, even though it sounds too good to be true. Certainly there are a lot of great products out there, but which products are really worth it and which are a waste of money? The makeup and skin-care review website Beautypedia can help answer those questions and best of all, now it's completely free and smart phone accessible!
"We've all bought expensive products that sucked," says Paula Begoun, known worldwide as The Cosmetics Cop and best-selling author of Don't Go to the Cosmetics Counter Without Me. Paula suffered for years with horrible skin, including acne and eczema, and finally resorted to personally reviewing the research on skin-care ingredients. What she found was that many of the ingredients in the products she was using were actually making her skin worse.
Today she has beautiful skin and a strong desire to spare others the misery she went through. Her lifelong mission is to help consumers find the best products in all price ranges, whether they're looking for a long-wear lipstick, self-tanner, anti-acne cleanser, or wrinkle cream. With over 30 years of cosmetics and consumer research under her belt, she developed Beautypedia, a comprehensive beauty database with over 45,000 candid, research-supported reviews.
Unlike other skin-care and makeup review websites that feature only consumer opinions, Beautypedia's reviews are based on published research about the effectiveness of the ingredients in each product. So, while other sites give opinions, the team behind Beautypedia does the hard work of researching each ingredient in every product.
From major name brands to smaller boutique, home-shopping, infomercial, and spa lines, it's all there and smart phone accesible on-the-go. Beautypedia sifts through the good, the bad, and the ugly to find the best of the best skin-care and makeup products. It doesn't get any better than that!
About Paula Begoun
Paula Begoun is the creator and innovative force behind Paula's Choice skin-care and cosmetics products. She developed her line of products and the Beautypedia website after years of struggling to find the right products to deal with her own skin-care concerns, including acne, wrinkles, and skin discolorations. She and her team are passionate about helping others find the best products for their skin, whether it's from Paula's line or someone else's. Paula is the only cosmetics company founder in the world who recommends products other than their own.
Paula is the author of 18 best-selling books, including Don't Go to the Cosmetics Counter Without Me, Blue Eyeshadow Should Be Illegal, The Original Beauty Bible, and Don't Go Shopping for Hair-Care Products Without Me. Paula's books have sold more than 2.5 million copies worldwide.
Paula's work as a nationally recognized consumer expert for the cosmetics industry has led to repeat appearances on CNN, as well as on programs such as Oprah, The Today Show, 20/20, Dateline NBC, The View, and The Dr. Oz Show.
For more information about Paula Begoun and her books, visit http://www.CosmeticsCop.com. For information about Beautypedia, the online version of Paula's book, visit http://www.Beautypedia.com.
###