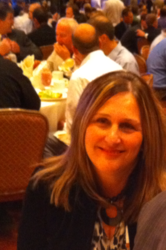 It gives businesses an opportunity to share imperative information with the rest of the world.
Salt Lake City, UT (PRWEB) October 24, 2011
A Utah entrepreneur has started a news website focused on providing opportunities for businesses to tell their stories. Having launched this year, reporters for NewsGroup4 have interviewed Utah's governor and written stories about the fastest-growing companies in the state.
"Our news channel is different than any other website out there," NewsGroup4 President L.a. Gerson said.
Along with a weekly roundup of business headlines, NewsGroup4 publishes in-depth interviews with local companies. Becoming a NewsGroup4 member is free, and visitors receive perks on the site. Gerson said those who want promotional advertising may have their profiles displayed prominently at NewsGroup4.com.
"We give our clients a chance to tell their story in the news," Gerson said. "It's a win-win … You're reading engaging news as we bring the community together to learn about their business peers and industry experts."
A new study from the Pew Internet and American Life Project and the Knight Foundation found that the Internet ranks as a top source of local news for the "79 percent of Americans who are online."
Consumers are relying heavily on social media and news websites, and nearly half read their news through mobile devices, according to the study.
Those numbers bode well for websites like hers, Gerson said.
"Our company is made up of several serial entrepreneurs with backgrounds in journalism, search engine optimization and social media development. We've been waiting for a day like this to happen," she said. "Print, radio and TV news have all lost substantial numbers of viewers while online news coverage has gone up 10 times over."
But not every company can afford expensive public relations campaigns to help spread their messages in the media.
"We give everybody an opportunity to tell their story," Gerson said. "It creates a level playing field for the 20,000 new businesses that move or expand into Utah each year."
Sprout Marketing President Bruce Law, an advertising and marketing expert, has embraced NewsGroup4's business model. Law serves on the board of the Utah Technology Council.
"I believe there is an opportunity for the Utah Technology Council to have a powerful voice in this new medium from the early stages," Law explained.
Melissa Hallenbeck, marketing coordinator for H&R Block in Utah, said the Internet is her primary news source and she frequently visits NewsGroup4.
"Their marketing model is phenomenal," Hallenbeck said. "It gives businesses an opportunity to share imperative information with the rest of the world."
EarthFruits Yogurt, a company that started in Utah, is a client of NewsGroup4. The business hired NewsGroup4 hoping to improve the store's website rankings in the search engines.
EarthFruits spokeswoman Carean Pavlovich said NewsGroup4 has produced early positive results. When people search Google for "EarthFruits news," the company appears on the first page of the results.
"We never ranked that well before partnering with NewsGroup4," Pavlovich explained.
The news website profiled the company in a prominent article, which helped push EarthFruits to the front of the search results.
"It gives us third-party credibility," Pavlovich said. "It validates how great our business is and it's not us out there writing it."
###