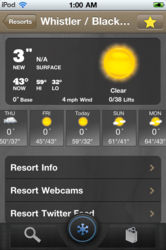 Seattle, Wa (PRWEB) October 24, 2011
REI (Recreational Equipment, Inc.), a national retailer providing quality outdoor gear and clothing, announces its Winter Gear Guide, an online, one-stop, winter resource featuring top picks for winter gear and apparel, an intro into rocker technology, an updated mobile snow report application for smartphone users, and great ideas for winter family fun.
Through online "expert advice" columns and videos, REI's experts teach adventurers how to wax current gear, how to choose new gear, and explain "rocker" technology, an innovation incorporated into most new skis and snowboards to help enhance overall maneuverability and improve flotation in powder.
Stay up-to-date on weather and snow conditions for up to a dozen snow resorts this season with REI's free Snow Report App for iPhone and Android users. Once downloaded, this smartphone application lets users check snow conditions, forecasts and trail maps for their favorite hills or resorts.
Prepare for a great season by fine-tuning current gear. REI offers full-service snow shops to help ensure skis and snowboards are well-maintained and tuned to perform at their best. REI's fully certified and highly trained experts can assist with anything from inspections to tuning or waxing to major base repair/edge-replacement.
Upgrade kids ski gear. Through the Junior Snowsports Trade-in Program, REI members can bring in gently used kids' or junior ski and snowboard gear (originally purchased at REI) and trade them in for 20 percent off the purchase of new kids' or junior snow sports gear. For more information on the co-op's junior snow sports trade in program availability, visit REI.com.
Visit REI stores or the REI.com for a wide selection of outdoor gear and apparel to help keep the entire family warm and dry this season. Make a purchase between now through Oct. 30 to receive $20 off the next purchase of $100 or more between Oct. 31 and Nov. 17.
About REI
REI is a national outdoor retail co-op dedicated to inspiring, educating and outfitting its members and the community for a lifetime of outdoor adventure and stewardship.
Founded in 1938 by a group of Pacific Northwest mountaineers seeking quality equipment, REI is committed to promoting environmental stewardship and increasing access to outdoor recreation through volunteerism, gear donations and financial contributions.
###