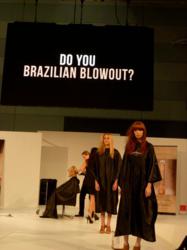 Brazilian Blowout at Marc Azzi is the most popular treatment in the world.
Sydney, Austrailia (PRWEB) October 22, 2011
According to leading Sydney-based hair stylist Marc Azzi of the Marc Azzi Hair Salon, Brazilian Blowout Keratin treatments are now the most popular among Australian women, thanks to their promotion by Hollywood movie stars such as Nicole Kidman and Jennifer Lopez.
"There are many cuts taking place across the Australian economy, but our experience is that women are still very much focused on looking good and keeping up their appearance," says Mr. Azzi. "They certainly don't seem to mind spending money on quality hair treatments and hair products, and our strong sales growth is reflecting that.
"The most popular product among women at the moment, by far, is without a doubt the Brazilian Blowout treatment. Our salon is continuing to average between 60-70 treatments per week, with demand growing from week to week. This is well ahead of demand for other hair treatments," says Mr. Azzi.
The Brazilian Blowout is based on products that treat the follicles of the hair to remove all frizz and fuzz, eliminating the need for hair straightening for three to four months.
"Ordinarily women have to blow dry and iron their hair straight after they shower. The Brazilian Blowout treatments are popular because after they've had one, women just blow their hair with a dryer or towel dry it and that's all they have to do. The treatment only takes about 90 minutes and gets rid of all the frizz and the fuzz from hair," says Mr. Azzi.
But Mr Azzi says that as Australia's leading Ambassador and holder of the exclusive licence in Australia for Brazilian Blowout products, women should be careful of salons offering services under the official Brazilian Blowout brand. Clients should be very wary on puchasing hair services from online discount site as they will most likely be ripped off, Site such as Spreets and Cudo's have countless of hair disasters from client purchasing from there site.
"We are aware that some salon operators have been offering treatment services using the Brazilian Blowout name, but consumers should be aware that we are the one of the only salons in Australia with the Brazilian Blowout licence," Mr Azzi says. "These operators are not using the official brand products, so this is misleading. Consumers should contact the Marc Azzi Salon if they are unsure about any other offers under the Brazilian Blowout brand, of if they need further information or advice on this hair treatment."
For further information, contact:
Marc Azzi
info(at)marcazzi(dot)com
http://www.keratintreatmentsalon.com
###