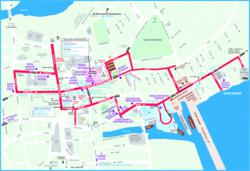 Our job is to present Witches, Witchcraft, Wicca and Paganism in the best possible light, and yes, that means our staff need to understand people's needs and direct them as needed. - Rev. Don Lewis, Museum Curator
Salem, Ma (PRWEB) October 22, 2011
In October, Salem becomes the Halloween Capital of the world, with an amazing number of psychics, mediums, and clairvoyants, available for every kind of reading, séance, and spiritual message. Few places in the entire world have such concentration of supernatural energies and psychic skills. For the visiting tourist this can be overwhelming as they search for just the right psychic for them. Many visitors, in order to sort out the possibilities start with the World of Witches Museum, at 57 Wharf Street, the experts and informational sources for all things Psychic, Magical, and Salem. The highly trained staff offer simple explanations and by using the Haunted Happenings Maps and Guides and are able to map out each questioners Salem adventure. In a city full of psychics, it is good to have a guide, and WoWM offers this freely to all comers and makes an excellent first stop.
As a source of knowledge, The World of Witches Museum is happy and very personal. They provide information openly in face-to-face situations that can create the best possible path through the city. The staff is also masters of Social Media providing an equally exciting experience on the web, through their Facebook Page of over 20,000 fans, Twitter, Websites, videos, and even an online radio show. As a museum dedicated to Witchcraft and the Modern Witch community, they not only seek to help guide people in the city, but also on their spiritual and psychic journey wherever they are in the world. Many people contact them daily just for guidance, through an often confusing world.
Not just visitors ask for information, the World of Witches Museum is a first stop for journalists, reporters and photographers of all kinds of media today. As a source, the staff has been trained to give the Press the answers requested, from simple interviews and background research to contact information for psychics and Witches, not just in Salem, but from around the country and across the world. They have deep friendships and resources that include authors, artists, and leaders from across the Pagan, Wiccan, and Psychic Worlds, and they share this information freely with all honest seekers.
According to Museum Curator, Rev. Don Lewis "We have spent a lot of time learning about Salem, and studying ways to help people in the city, regardless if they are a resident or a visitor. Our job is to present Witches, Witchcraft, Wicca and Paganism in the best possible light, and yes, that means our staff need to understand people's needs and direct them as needed. It does not matter if we send them to other museums including the Salem Witches Museum, The Witch Village or to other psychics; as long as we give them the information they need to continue their journey."
Of course, World of Witches Museum has a collection of Psychic Readers and Witches of their own. They include internationally known Psychic Rev. Don Lewis, Author, Artist, clairvoyant, and Wiccan First Priest. He is considered the Psychic that other Psychics go to for a reading. Therese Pendragon, Salem Native Witch, 40 years of experience, and a true legend of Witch City. Phaedra Bonewits, Author of Real Energy, and deeply intuitive natural witch, and Kathryn Samuelson intuitive reader and angel/guide speaker. Finally, the museum has America's only Stone Reader, Terri Milton, The Stone Lady, who can take the bones of Mother Earth to describe the deep and hidden nature of those who sit before her. All of these individuals and several more can be reached at the World of Witches Museum.
So whatever you seek in Salem, or from the Psychic World anywhere, The World of Witches Museum can help you find your way. To find out more you can visit the World of Witches Museum, 57 Wharf Street, Salem, Ma 01970, at http://www.Facebook.com/worldofwitches, or you can call at 978-594-1569.
###