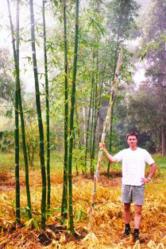 Agronomy @ VolkerKleinhenz.com
Phnom Penh, Cambodia (PRWEB) October 22, 2011
The paper on "A case study on the effects of irrigation and fertilization on soil water and soil nutrient status, and on growth and yield of bamboo (Phyllostachys pubescens) shoots" presents results of experiments which were conducted in south-east Queensland, Australia between 1994 to 1998. Water supply had a major effect on bamboo growth and shoot yield. Without irrigation and only little rainfall (80–140 mm) prior to and during the shoot season, shoot numbers were significantly lower compared to irrigation in the following years when bamboo shoot numbers and individual shoot weights were much greater at the higher rate of irrigation. Bamboo marginally responded to increasing rates of fertilizer application; notable was the response when it was applied in the inorganic form and combined with the higher irrigation rate. Respective yields under these conditions were 8,3, 10,2 and 14,2 tons per hectare of shoots at 250, 375 and 500 kg nitrogen per hectare. Leaf nitrogen also reflected the yield response to fertilizer, but soil nitrogen did not. Response to an organic (chicken dung) form of fertilizer, albeit providing approximately one half of the rate of inorganic fertilizer, was negligible.
Besides providing an overview of his scientific publications, his homepage includes Volker's updated Curriculum vitae which now includes his latest assignments as a referee for the premium international agricultural journal Scientia Horticulturae and the Journal of Agriculture and Rural Development in the Tropics and Subtropics (JARTS).
Scientia Horticulturae is an international journal publishing research related to horticultural crops. Articles in the journal deal with open or protected production of vegetables, fruits, edible fungi and ornamentals under temperate, subtropical and tropical conditions. It also covers related areas including biochemistry, micropropagation, soil science, plant breeding, plant physiology and phytopathology if related to horticulture. Scientia Horticulturae's current impact factor as published by Thomson Reuters is 1.045. The Journal of Agriculture and Rural Development in the Tropics and Subtropics is a peer reviewed journal that publishes research papers in the fields of plant production, animal nutrition and animal husbandry, soil science, agricultural economy and farm management, forestry and forest economy, veterinary hygiene and protection against epidemics.
This information is also accessible through Volker's German Homepage and his Homepage at the Asian Institute of Technology (AIT) in Thailand.
###