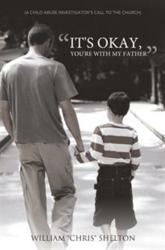 Piggott, AR (PRWEB) October 25, 2011
According to the organization ChildHelp, over 3 million reports of child abuse are made every year in the United States. In response to these frightful statistics, and to help mitigate the issue, Chris Shelton wrote It's Okay, You're With My Father: A Child Abuse Investigator's Call to the Church (published by WestBow Press).
As a child abuse investigator, Shelton has worked hundreds of cases over his nine year career. With his experiences, he says that due to a breakdown of families, child abuse and neglect has become a national problem.
An excerpt from the book:
"We have generations being raised without fathers in the homes. They are instead being raised by television shows like "Jerry Springer," "MTV Spring Break", and "Girls Gone Wild", etc. Without some guidance, the average student is watching the "Jerry Springer" program getting ready for school in the morning. "MTV Spring Break" and "Girls Gone Wild" show young people drinking, partying, acting out sexually, and apparently having fun; however, what they don't show is the venereal diseases, the people who drank too much and died from alcohol poisoning or caused a car crash killing innocent victims, or were abused while under the influence, the unwanted pregnancies, the feelings afterward that lead to depression, low self esteem, etc."
He believes the state can treat the symptoms, but only God can heal the problem. "God put it in my heart that the answer was Jesus," says Shelton. "We have to exercise God's love and provide an atmosphere of love, acceptance (not of the behavior, but of the person), and forgiveness where God can 'heal' them."
In It's Okay, You're With My Father, Shelton writes of the cases he's worked as a call-to-action for readers to reach out in love so God can use them to break the cycle and heal these families in Jesus. The book is described as a ride-a-long with a Christian child abuse investigator.
About the Author
Chris Shelton is a former special agent, child abuse investigator and pastor. These roles have allowed him to expose the darkness of sin that has robbed millions of children of their innocent, formative years. Like a seasoned agent, he extracts the negative and as a pastor points people towards the positive with compassion and restoration. Chris's wife, Jackie, overcame abuse in her own life. They live in northeast Arkansas and have a teenage son, Adam. For more information visit http://www.ReachOutChristsKingdom.org.
WestBow Press is a strategic self-publishing alliance of Thomas Nelson, the world's premier Christian publisher, and Author Solutions, Inc. (ASI)—the world leader in the fastest-growing segment of publishing. Through this partnership, authors benefit from the rich publishing heritage of Thomas Nelson and the speed-to-market advantages of the ASI self-publishing model. Titles published through WestBow Press will be evaluated for sales potential and considered for publication under the Thomas Nelson imprint. For more information, or to start publishing today, visit westbowpress.com or call 866-928-1240.
###