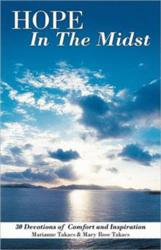 TEMPERANCE, Mich. (PRWEB) October 25, 2011
When a loved one, especially a young child, is diagnosed with a life-threatening disease, it often leaves one with little hope. Many turn not only to their family, but also to seeking comfort in God. Authors Marianne Takacs and Mary Rose Takacs offer faith in times of need with Hope in the Midst: 30 Devotions of Comfort and Inspiration (published by WestBow Press), a 30-day devotional that enlightens readers with their own touching account of God's faithfulness.
In the fall of 1997, 9-year-old Mary Rose began displaying symptoms of a strange, unidentifiable flu. After nine months of searching for answers, she was finally diagnosed with Lyme disease. However, by that time, Mary Rose weighed half the normal body weight of a 10-year-old and was no longer able to walk.
Hope in the Midst tells the remarkable story of one family's love for one another and their fight to save Mary Rose. The Takacses say that is was through their faith in God and the kindness of many, they were able to survive these difficult events and trying circumstances over the years.
Excerpt from "Hope in the Midst"
"We've probably all seen the poster of the kitten barely hanging onto a branch, dangling in midair. The caption reads something like, "Lord, help me. I'm so tiny in a world so big." Do you ever feel that way? Unwelcome problems you're facing can become magnified to the point that they appear bigger—even too big for God to handle. The beliefs you've held to may not be comforting. They may even be challenged in ways you never thought possible. This certainly was the case with me as I faced the life-altering circumstances of my daughter's illness. Twelve years ago, a doctor told us he would do his very best to help our daughter, but he didn't know if it would be good enough. He forewarned us that the road ahead would most likely get worse before it got better and said our faith could quite possibly be shaken to its core. He was right."
"Mother and daughter, Marianne and Mary Rose, share their life challenging experiences with disarming honesty and humor. This precious devotional will inspire you to persevere in your faith shaking trials of life."

Katie Brazelton, PhD, MDiv, MA
Bestselling Author, Pathway to Purpose
http://www.LifePurposeCoachingCenters.com
"Hope in the Midst" was written for anyone facing life-challenging circumstances. "Everyone faces something at some point in his or her life and needs to know there is hope beyond themselves, right in the midst of the situation," writes the Takacses. "That true hope is found in Jesus Christ."
About the Authors
Marianne Takacs' roles as a homeschooler and caregiver for her daughter have uniquely qualified her as a professional life coach to come along side others in their life struggles. She established the Helps Team at her home church in Ottawa Lake, Michigan, now serving on the Pastoral Care Team.
Mary Rose Takacs' experience in fighting through an acute and chronic illness has given her an exceptional ability to encourage, comfort and aid those facing traumatic circumstances. In addition, Mary Rose was an awarding winning journalist in college. She is one of the co-leaders of the young adult ministry at her home church in Ottawa Lake, Michigan.
Marianne and Mary Rose led a mother-daughter bible study for 3 years.
WestBow Press is a strategic self-publishing alliance of Thomas Nelson, the world's premier Christian publisher, and Author Solutions, Inc. (ASI)—the world leader in the fastest-growing segment of publishing. Through this partnership, authors benefit from the rich publishing heritage of Thomas Nelson and the speed-to-market advantages of the ASI self-publishing model. Titles published through WestBow Press will be evaluated for sales potential and considered for publication under the Thomas Nelson imprint. For more information, or to start publishing today, visit westbowpress.com or call 866-928-1240.
###