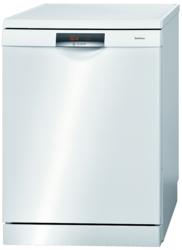 Households can save hundreds of pounds on their energy bills in the long run if they choose a more energy efficient appliance
(PRWEB UK) 21 October 2011
A recent survey has revealed that UK consumers are becoming more environmentally conscious when it comes to buying new kitchen appliances, choosing energy rating over price.
The survey carried out by Bosch Logixx and Appliances Online has revealed that 96.6% of consumers now consider energy ratings as the most important factor when purchasing a brand new kitchen appliance.
Kate Crabtree, Energy Specialist at Appliances Online believes that consumers are slowly beginning to realise that savings can be made; "Although most A rated kitchen appliances cost a little extra, households can save hundreds of pounds on their energy bills in the long run if they choose a more energy efficient appliance."
It is estimated that replacing an old large dishwasher with a brand new A rated model can save up to £26 every year, saving £260 over the lifespan of the appliance.
Considering 91.9% of consumers surveyed believe water saving is important, just over half believed hand-washing uses less water than dishwashing which is in-fact a myth. The Activewater technology available on the Bosch Logixx SMS69L22GB Dishwasher massively reduces water usage with only 10 litres of water used per Economy 50°C Programme wash. This is significantly less than the 49 litres of water used a similar size load was washed by hand. However the Bosch Logixx range doesn't just save water, it is also extremely energy efficient appliance using 29% less energy than a similar Bosch dishwasher manufactured 15 years ago.
Despite thinking energy ratings are important a massive 90.8% of consumers only purchase a brand new kitchen appliance when their old one breaks. This has resulted in millions of outdated energy guzzling appliances currently operating in homes across the UK. This is both increasing carbon emissions and costing the nation millions every year.
Visit http://www.appliancesonline.co.uk/energy-saving to find out more information on how appliances can help cut yearly energy bills.
(The survey was carried out over a three week period and was answered by 716 consumers)
###