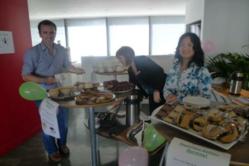 We are always delighted to help raise awareness for Macmillan Cancer Support and our fund raising activities this time were helped substantially by the generous prizes donated by clients and suppliers which we were able to raffle or auction off
London (PRWEB) October 24, 2011
Avanta business centres recently joined fundraisers from across the country to help raise more than £2,600 in supporting the Macmillan World's Biggest Coffee Morning.
The event, which took place on Friday, September 30, simultaneously at each of Avanta's 18 UK business centres was attended by external meeting room and internal office space clients.
"We are always delighted to help raise awareness for Macmillan Cancer Support and our fund raising activities this time were helped substantially by the generous prizes donated by clients and suppliers which we were able to raffle or auction off," comments Geraint Evans, sales & marketing director for Avanta.
"The donated prizes ranged from private jet flights and restaurant dining to iPods and wine, but each and every one demonstrated the wholehearted support that our clients were willing to give to this great cause."
The monies raised from the event will be used to fund Macmillan's support services for people with cancer and their families. Last year over 43,000 people held a coffee morning in support of Macmillan which raised over £8million for good causes.
"In addition to being a fundraiser this event provided a great networking opportunity for both clients and staff alike and this could be the perfect template for future fundraising events at our business centres," Evans concludes.
For more information on the Macmillan Cancer Support you can visit their website at http://www.macmillan.org.uk
Note to editors:
Avanta Managed Offices Limited was formed in 2004. The company offers highly flexible, unbranded office space and meeting rooms, with advanced and competitively price technology, tailor made to meet the requirements of the occupier. In the UK it currently manages more than 650,000 sq ft of office space in prime locations in London, the Thames Valley and Edinburgh. It also operates one business centre in New Delhi, India and in 2009 formed a partnership with Regent Business Centers, which manage 13 locations throughout the US.
For further information
about Avanta
Colin Peck, Gravitas Business Communications
07802 606 433
colinpeck(at)aol(dot)com
Tim Xumsai, Avanta Managed Offices Ltd
0203 008 6000
http://www.avanta.co.uk
Join us at:
twitter.com/avantaoffices
facebook.com/avantaoffices
youtube.com/user/avantagroup
Our RSS Feed:
http://www.avanta.co.uk/News/RSSfeed
###