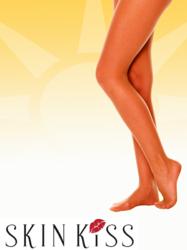 They have been hailed as the quick and easy, no mess route to gorgeous tanned legs.
(PRWEB UK) 21 October 2011
Over the past decade the world has had fake tan lotions, mousses and sprays, now the latest way to get the perfect tan is to wear fake tan tights!
Impregnated with microcapsules of fake tan, this revolutionary and patented hosiery product has been launched exclusively with one of the UK's leading tights suppliers, Tights Please with the aim of delivering perfectly bronzed legs.
Instead of having to stand naked in the star position, simply walking around in a pair of tights impregnated with tanning treatment for just 10 minutes provides that desired 'skin kiss' tan.
Using fake tan tights removes the need to rub in lotions, minimising the risk of patchy ankles and an uneven tan. They have been hailed as the quick and easy, no mess route to gorgeous tanned legs. One of its main features is the tan doesn't slow down once the sun kiss brown appears!
After 10 minutes of wearing, the fake tan tights can be removed to allow the tan to fully develop over the next 2 hours. These tights can be purchased for as little as £7.99.
The Science Behind the Fake Tan Tights
Patented technology ensures microfibres in the tights are impregnated with tanning solution. When these microfibres come into contact with skin the tanning agent starts to develop, leaving the legs perfectly tanned. The perfect balance of DHA, Aloa, Erythrulose and other proprietary ingredients combine to leave a smooth and even long lasting tan.
Revolutionary Tights to Break Down Cellulite
Previously Skin Kiss introduced the Caffeine tights which were impregnated with microcapsules of caffeine to break down cellulite. When the tights are worn for as little as 10 minutes, the caffeine is released from the microcapsules into the skin where it starts to break down the cellulite.
Worn daily for a three week period many individuals have seen the benefit of a 2cm reduction on each thigh which is remarkable. The skin also appears smoother and softer to the touch. These tights are available to purchase in packs of three for £25.48.
Consumer sales at http://www.tightsplease.co.uk
Press requests (00 44) 845 365 1221 and marketing [at] tightsplease.co.uk
Retailer requests please visit http://www.skinkiss.com
###