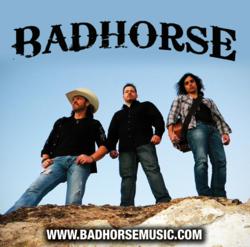 hard work is taking them to the top of the class
Nashville, TN (PRWEB) October 21, 2011
Global Maximus Records (GMR), a leading independent music label announced today that rising country music stars, 'BadHorse', currently have two songs rising steady on the charts. The group released "Its All Good" in August to radio and is currently ranked at #38 on Country's Music Row Chart and climbing. The feel good song has been adopted and played at various sporting events to huge fan appreciation.
The groups second charting single is part of the movie soundtrack to 'Brother's Keeper' a feature film with a star studded cast due out in theaters in 2012. The spiritual and inspirational song, 'I Still Love Them', debuted this week at #68 on Country's Inspirational Charts giving the group two singles charting at the same time an accomplishment not matched by many of today's artists. 'BadHorse' contributed five songs to the upcoming movie soundtrack.
"What can I say that we haven't said many times over. Our faith in BadHorse is well established and that faith and their hard work is taking them to the top of the class. That's where their talent belongs also, the bands always been special, special because of their unique beautiful music that is fun to listen to and watch 'live' and that is 'BadHorse' as the fans around the world are finding out," Stated Randall James, President of GMR
The group is currently preparing for an eastern US radio tour before a long tour schedule beginning in the U.S. and Europe that will have the Bad Boys of Country Music very busy the rest of the year and all of 2012.
'BadHorse' is also in line for a period in Las Vegas where the band is largely popular. The band has focused on the west coast with vision clearly now on the eastern US areas.
For more information on 'BadHorse' please log on now to http://www.MusicatGMR.com and please, Like them on Facebook which is linked to their website at http://www.BadHorseMusic.com
For booking information simply click under contact 'BadHorse' to discuss further details and booking availability.
###