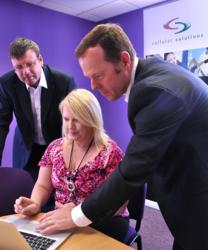 This 33% growth has been in no small part down to the company's continued investment in it's people, infrastructure and process
Sunderland, Tyne and Wear, UK (PRWEB) October 24, 2011
In these times of economic instability and financial uncertainty, one of the region's biggest business to business communications companies has proved that business can flourish during these difficult times.
Cellular Solutions of Ferryboat Lane, Sunderland, who provide a comprehensive range of business to business communications services across the region, have increased their annual turnover by a staggering 33%, just over £1million, whilst other companies in their industry are struggling and going backwards.
In a highly competitive and fast moving marketplace, Cellular Solutions have shown that it is vitally important to be able to continually adapt to the market-place in order to grow. As well as providing their clients with voice and data communications, Cellular Solutions have also introduced other products and services to their portfolio, such as land lines, broadband and ICT services as well as restructuring their support, sales and dmu teams, in order to offer the best possible service to customers.
Mike Bowers, MD of Cellular Solutions, said: "In order to continually move the business forward, we have introduced a series of new strategies and in-house policies over the past 12 months that have improved performance and efficiency levels throughout all areas of our organisation.
"The introduction of procedures like our 'WOW Factor', along with the restructuring of our support teams has not only increased our turnover by over a third, it has also increased the morale and performance levels of all staff. By promoting one to one account management, we ensure there is a seamless continuity when dealing with all aspects of our client's needs.
We were awarded the Durham and Wearside Business Award for Customer Service earlier in the year, which just goes to show that our approach has not only benefited us as a company, it has also had an real impact felt by our all of our clients." This has been in no small part down to the company's continued investment in infrastructure and training, the bespoke and highly integrated SAGE CRM solution plays a huge part in our customer service and account management lifecycles, so much so that SAGE themselves did a video case study on us.
Cellular Solutions are 'select members' of the Blackberry Alliance which gives more gravitas and emphasis to their clients and are also one of only a few companies in the UK that have been awarded the coveted O2 'Centre of Excellence' status, which highlights outstanding levels of customer service and support to customers. As part of their future expansions, Cellular Solutions are ready to introduce further hi-tech services as part of O2's 'Joined Up World'. The additional services offered will include Cloud Workspace, a hosted solution which offers secure access to the full range of Microsoft applications, Sage Accounts and some SAGE CRM. There are also plans, as part of the natural progression as a key O2 partner, to incorporate a range of financial services with O2 Money, to key clients across the region.
Mike added: "Clients' procurement processes are no longer solely about price, more and more businesses are buying communications based upon levels of service and support. We have a very skilled and loyal workforce, which is why our customers know we will deliver on our promises and provide excellent levels of customer service. We feel that this is one of the main reasons that our sales ratio has doubled over the last 12 months from 1 in 4 to an exceptional 1 in 2, which has shown in our increase in turnover.
We know that if we can keep providing our clients with products and services that offer cutting edge solutions, our levels of success and growth will continue."
###