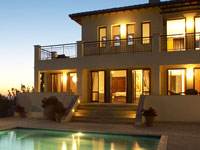 Paphos, Cyprus (PRWEB UK) 23 October 2011
The Gala marked the announcement of the start of construction work of the latest €26mln luxury project – Alexander Heights at the award winning Aphrodite Hills Resort!
The actual event was purely entertaining and a memorable 3 day experience which included a Saturday night Gala Dinner and a lot of different activities to help the guests experience everything that Aphrodite Hills Resort has to offer. Participating organizations also had the opportunity to offer this event to their top clientele as a gesture of appreciation for their business. The event was hosted by Mr. Costas Lanitis and was held under the auspices of H.E. the Ambassador of the Russian Federation Mr. Vyacheslav D. SHUMSKIY.
This exclusive engagement celebrated the development of Cypriot-Russian-Ukrainian business and cultural relations and will comprise approximately 500 corporate and retail clients of some of the most prestigious organizations in Cyprus as well as other political and business personalities.
During the Gala Dinner, the guests had the opportunity to enjoy an exclusive fashion show by Flana Ltd, owners of Splash boutiques, Editori and mono-brand Pinko in Nicosia and Limassol where as, earlier in the afternoon they attended the exhibition of the Chopard Red Carpet Collection 2011 by Jewllery Atelier. The prestigious weekend also included test drives and Resort property tours with the latest BMW models courtesy of the Charalambos Pilakoutas Group.
###