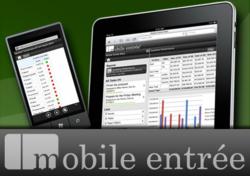 Manassas, VA (PRWEB) October 25, 2011
H3 Solutions, Inc. today announced the release of the next major version of their mobile application platform for SharePoint, Mobile Entrée. Major enhancements to the Mobile Entrée platform include mobile support for PerformancePoint scorecards and reports as well as an innovative HTML5 framework for offline-capable mobile applications.
BI and PerformancePoint Support
Performance management is one of the highest priorities in business intelligence for any corporation. With its seamless integration with SharePoint, PerformancePoint is a logical choice for any organization with SharePoint already deployed. Mobile Entrée 3.0 extends the great BI capabilities of PerformancePoint with a touch friendly experience that is easily navigated on smartphones as well as tablets.
The Mobile Entrée BI offering now scales from mobile-enabled self-service dashboards, using Excel, PowerPivot and Excel Services, to IT-developed dashboards, using PerformacePoint. All leveraging the BI investments organizations have made in SharePoint 2010.
HTML5 Application Framework
Mobile Entrée 3.0 also brings with it an HTML5 framework that allows for the development of offline capable mobile applications. This extension to the platforms gives SharePoint developers the ability to create HTML5 mobile applications that can be taken offline by iOS and Android devices. In addition, you can also take SharePoint content offline without any development using the out-of-the-box mobile apps shipped with Mobile Entrée.
"We have made it easy for .NET developers to create installable HTML5 web applications." Stated Mike Herres, President of H3 Solutions. "Offline capability was the biggest ask from our customers, and we have delivered with a highly flexible solution that will run on the two most popular mobile platforms."
HTML5 is transforming the mobile browser into the platform of choice for many organizations deploying corporate mobile applications to their users. As devices and browsers evolve their support for HTML5, Mobile Entrée will extend offline support as well as other HTML5 capabilities to those platforms.
To learn more about Mobile Entrée, visit http://www.mobileentree.com. You can read the 3.0 release notes by navigating directly to http://www.mobileentree.com/docs/Wiki%20Pages/Release%203.0.aspx.
About H3 Solutions
Founded in 2006, H3 Solutions is known for its expertise in Microsoft SharePoint technologies. A Microsoft Gold Certified Partner, H3 Solutions provides software and consulting to clients in both the public and private sectors. H3 Solutions is likely best known for the creation of the mobile application framework for SharePoint, Mobile Entree® (the industry's first SharePoint-integrated development platform for mobile applications). H3 Solutions is based in Virginia, and is privately held.
###