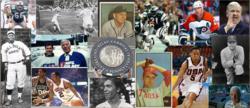 A truly unique evening honoring the history and heritage of America's best sports city.
Philadelphia, PA (PRWEB) October 23, 2011
The Philadelphia Sports Hall of Fame is thrilled to announce that its upcoming Eighth Annual Induction Ceremony and Reception not only has a world-class roster of inductees, but wonderful corporate sponsors in Comcast-Spectacor and the Philadelphia Eagles.
This highly anticipated event will be held Thursday November 10, 2011 at the Sheraton Society Hill in Philadelphia.
The Hall of Fame's 8th class includes: Eagles linebacker Bill Bergey, Negro League baseball great Biz Mackey, Phillies lefthander Curt Simmons, basketball star Dawn Staley, NFL Films founder Ed Sabol and son Steve Sabol, Philadelphia Athletics infielder Jimmy Dykes, Yankees manager and Germantown native Joe McCarthy, Sixers center Moses Malone, Flyers defenseman Mark Howe, Tennis and basketball great Ora Washington, Two-time track Olympic gold medalist Ted Meredith, Eagles running back Wilbert Montgomery, scholastic and collegiate basketball coaching legend Speedy Morris, broadcast pioneer Al Meltzer and the world famous Penn Relays.
In addition to lead sponsors Comcast-Spectacor and the Philadelphia Eagles, the Phillies, LaSalle University, St. Joseph's Prep, Roman Catholic High School, SugarHouse Casino and NFL Films have partnered with the Hall to honor this year's inductees.
This one-of-a-kind event includes appearances by Philadelphia Eagles cheerleaders and Philadelphia Flyers Ice Crew along with a special address by Bill Cosby, unofficial ambassador for the Penn Relays. The evening's program will be again emceed by former General Manager of the Philadelphia 76ers, current Vice President of the Orlando Magic, noted author and motivational speaker Pat Williams.
The Induction is preceded by an exciting two hour dinner reception featuring hors d'oeuvres, cocktails and entrée stations with this year's Inductees and Philadelphia Sports History as the theme.
"We look forward to providing another well received experience for our attendees. Our reception provides an opportunity for guests to mix and mingle with all-time Philly sports greats", said PSHOF board member Larry Sharp. "This class truly reflects the fantastic breadth and depth of sporting history that we believe makes Philadelphia the nation's greatest sports city".
In addition to the Induction Ceremony and Reception, the gala features a video exhibit by NFL Films, book signings, a fundraising silent auction and a unique museum exhibit featuring items from Inductees and the Hall of Fame's unique collection of Philadelphia sports artifacts.
Tickets and sponsorships for the event are still available by calling (215) 923-5121 Ext. 1, online at http://www.phillyhall.org/class8 or via email at class8(at)phillyhall(dot)net
About the Philadelphia Sports Hall of Fame
The Philadelphia Sports Hall of Fame was founded in 2002 as a not-for-profit corporation dedicated to honoring individuals, teams, events, organizations and venues prominent in the history of athletics in Philadelphia and the surrounding area. With this as a credo, The Philadelphia Sports Hall of Fame is devoted to honoring those persons, places, organizations and events that have made outstanding contributions through inspiring achievement in both professional and amateur sports while forever enriching the fans memories.
The ultimate goal of the Philadelphia Sports Hall of Fame is a permanent, interactive, state-of-the art sports museum and entertainment venue in the Philadelphia-area. This unique destination and attraction will offer amenities for sports fans of all ages, from the old-timer who wants to re-live childhood memories, to the youngster batting in a virtual home-run derby, our vision will embrace everyone who loves everything great about Philadelphia sports.
###