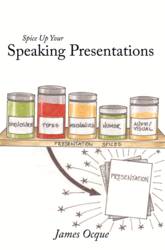 Articulating your thoughts is key to effective communication in leadership roles.
Winter Park, FL (PRWEB) October 24, 2011
A new book is bringing fresh perspective to the art of public speaking, providing an outlined guide for readers hoping to stand out.
In Spice Up Your Speaking Presentations (published by AuthorHouse), author James Ocque brings readers a reference book for improving their public speaking skills. Ocque dissects various presentation structures in an applicable format, and guides readers in adapting the presentation to the educational level and experiences of their audience. But Ocque maintains that this book is not only for those who regularly speak to large audiences.
"I have learned that speaking effectively is an important component in leadership," says Ocque. "Public speaking habits and techniques can even be used in job interviews. Articulating your thoughts is key to effective communication in leadership roles."
Ocque, who for many years has mentored and given education presentations to individuals interested in improving their speaking presentations, was inspired by the success of a manger who went from fear and nervousness to becoming a successful public speaker. Ocque says her story is not unique, but it represents the type of success that many find.
"Each speaker must develop their own style of speaking," says Ocque. "Giving an effective presentation is truly a learned skill. Mastering the mechanics of public speaking takes practice, practice, practice, and this book is intended to be a motivational resource."
About the author
Jim Ocque has spoken at Toastmaster's International Clubs and training sessions for more than 20 years, speaking at technical conferences and making presentations to community organizations. His experience includes informative presentations to company management, persuasive church sermons, motivational presentations to community clubs and technical presentations at seminars.
Ocque holds an associate's degree in mechanical engineering from Rochester Institute of Technology and a bachelor's degree in business administration from Johns Hopkins University.
EDITORS: For review copies or interview requests, contact:
Jessica Kiefer
Tel: 317.602.7137
Fax: 317.536.3775
Email: jkiefer(at)bohlsenpr(dot)com
(When requesting a review copy, please provide a street address.)
###