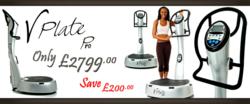 Beverley Knight says the Vplate mini helps her 'stay in shape for less than 15 minutes a day'.
(PRWEB UK) 29 October 2011
Health Clubs at Home's celebrity-endorsed Vplate vibration plate range is a winner for those wanting high-quality fitness machines for a fraction of the price of their rivals.
It used to be the best kept secret in the fitness industry amongst those "in the know". But now the Vplate vibration plate range, manufactured by fitness equipment specialist Health Clubs at Home, is being promoted by top health club chains, celebrities like soul diva Beverley Knight MBE and professional trainers such as Jackie Diss, the secret is out.
It's no surprise the Vplate collection is winning such high-profile fans – the vibration machines help you to stay in shape for just 15 minutes a day, burning an incredible 200 calories in half that time! Helping to burn fat, break down cellulite, tone muscles, reduce blood pressure, back and joint pain, and improve posture and flexibility – the health benefits speak for themselves, and the prices are a fraction of the more well-known brands.
There are four models in the range, two of which are designed for the home; the Vplate one, a commercial-quality vibration machine, and the Vplate mini, which weighs in at a portable 17lbs, as well as two better suited for a professional gym; the Vplate pro, a heavy duty dual-motor machine, made for the busiest health club and the Vplate lite, boasting a sleek design. At affordable prices and boasting a 3 year warranty on motors, 2 years on electronics and 1 year on all components you can understand why they are causing such a storm in the fitness industry.
Further proof of the Vplate brand's support of long-term fitness success can be found in the professional 'Whole Body Vibration Training' course. A REPS-accredited programme developed by Health Clubs at Home's sister company Gymkituk, which can be completed using any one of the machines. It provides 8 CPD points, and enables the trainer to deliver effective whole body vibration exercises.
Singer Beverley is a huge fan of the range, and regularly uses the Vplate mini and the Vplate one. She said: "When I'm on tour I like to use the Vplate mini vibration trainer. It's portable, light-weight, and it even has straps to help me vary my workout, and a remote control. It helps me stay in shape for less than 15 minutes of exercise a day – it's amazing!" It's also a snip at just £249, making it a fantastic option for those on a budget.
Beverley also loves the Vplate "one". She said: "The Vplate "one" is just like the Vplate pro's you find in the gym, but I can use the Vplate "one" at home and still get a complete body workout."
All of the machines provide an enviable variety of programmes, with a huge range of adjustable speeds to suit your body and an industry leading warranty. Three of the models have a unique built-in personal training function, boasting a console that demonstrates how to perform the exercises to achieve the maximum results from your workouts.
Beverley and Jackie are not the only ones to have been sold on the impressive range of products from Vplate. Major health club chains who stock the vibration plates include Energie, Parkwood Leisure, Fit4Less and Competition Line (Lifestyle Fitness)
The Vplate machines are an affordable investment in your fitness and health, and once you've placed your order, Health Clubs at Home offer free technical support for as long as you own it – so, in the words of Beverley Knight, 'Get Up' and change the 'Shape of you' with a Vplate machine today.
For more information, call Health Clubs at Home on 01733 205551.
###