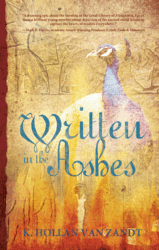 Written in the Ashes is one of those rare novels that sets history afire, to bathe readers in the glow of a greater, hotter truth.
San Diego, CA (PRWEB) October 24, 2011
She has no agent, no big publishing house. No magazines or blogs have reviewed her book. So how did K. Hollan Van Zandt get an Academy Award-winning producer to sign a deal for her book?
Written in the Ashes (published by Balboa Press) is Van Zandt's first novel, yet Mark Harris (Agape Media International) – who won the Best Picture Oscar® for Crash in 2005 and Best Screenplay Adaptation for Gods and Monsters in 1998 – is attached as executive producer to the television series Written in the Ashes, along with producer Josh Conviser, the original writer for the HBO hit series Rome.
The Great Library of Alexandria in Egypt held the complete works of Homer and Plato, the secrets of the pyramids' construction, Caesar's letters to Cleopatra, and all that was known about astronomy, physics and the chemical makeup of the world. How could anyone think of destroying such irreplaceable treasures of knowledge and history?
It's the question K. Hollan Van Zandt explores in what well-known author Tom Robbins calls her captivating debut novel, Written in the Ashes, now available through major online bookstores. Robbins has mentored Van Zandt for 20 years.
"Written in the Ashes is one of those rare novels that sets history afire, to bathe readers in the glow of a greater, hotter truth," Robbins says. "Fans of The Mists of Avalon will find this romantic/alchemical/feminist/spiritual epic equally captivating."
Harris became involved after reading the book.
Van Zandt says, "He told me, 'I never read, and I read your entire book cover to cover. This is really great stuff. You have a lot of spirituality imbedded in the hardest issues women grapple with in life: rape, murder, single parenting, aging. I think it is an ancient story for the most modern of times."
The author spent 10 years researching and writing this historical fiction work that features strong women in 5th-century Egypt amid a setting of legend, myth and history. It tells the story of the events that led up to the burning of the Library of Alexandria through the eyes of the fictional Hannah, a favorite of the historical Hypatia, the world's first female mathematician/
scientist/philosopher.
"Hannah is a Jewish shepherdess abducted and sold as a slave but destined for so much more: unforeseen respect, forbidden passion, and a quest to help Hypatia protect unimaginably significant documents and objects from Christian siege," says Van Zandt. "Readers will learn about Alexandria, Hypatia and the Great Library, all while enjoying Hannah's story of forbidden passion and the strength she finds within herself."
Written in the Ashes is available online at Amazon, Borders and Barnes & Noble. Visit WrittenInTheAshes.com for free gifts from the author, to read reviews and Van Zandt's blog, links to writing websites and more.
Author's bio:
During the 10 years writing and researching her first novel, Written in the Ashes, K. Hollan Van Zandt spent a lot of time inhabiting the psyche of the first female mathematician/astronomer/philosopher, Hypatia of Alexandria, who also ran the Great Library. As Hypatia was one of the first women ever to be in such a position of power without having inherited royal blood, the author says it "made a feminist of me, through and through." The experience put Van Zandt on the path of defining the feminine hero's journey, which she sees as vital to informing humanity's collective unconscious. She is a nature lover and a devoted yogi who was featured on the cover of Yoga Journal Magazine. She managed an independent bookstore in Malibu, Calif., for several years and has been a book editor and online book marketer. She is a graduate of Antioch University with a degree in creative writing. She lives in southern California.
Written in the Ashes
K. Hollan Van Zandt
ISBN: 978-1-4525-3515-9 (hc)
ISBN: 978-1-4525-3514-2 (e)
$36.95 (hc) $9.95 (e)
425 pages
Published August 2011
To reach the author or request a copy of the book for review, contact:
Cindy Dashnaw, cdashnaw(at)bohlsenpr(dot)com, 317.602.7137 ext. 223
###