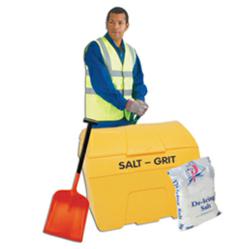 (PRWEB) October 24, 2011
Every year businesses are warned to be prepared for snow, but every year services and workplaces seem to grind to a halt. With forecasters already predicting heavy snowfall, Action Storage has announced details of how its new Winter Preparation Kits can help retailers, businesses, schools and other organizations to keep their doors open throughout the busy festive season.
Heavy snowfall is estimated to cost UK businesses £1.2 billion per day from absenteeism, lost productivity and lack of customers. The worst hit are often retailers and restaurants, but with Action Storage's Winter Preparation Kits they can give themselves the best chance of staying open and attracting more customers this year.
Action Storage's Winter Kits comprise of a variety of items, including grit bins (available in 80-400 liter sizes), shovels, gloves, salt spreaders, snow pushers and bags of de-icing salt, providing businesses with everything they need to clear areas for vehicles and people.
Two types of salt spreaders are available: drop and spinner. They are both made from corrosion free plastic, and enable de-icing salt to be quickly and easily spread throughout car parks and walkways after a snowstorm. The spinner, in particular, can deliver salt to large areas quickly with an 8 point adjustment system to control the rate at which salt is dispersed across a width of up to 3 meters.
Last year there was 30 inches of snow, which caught councils by surprise. This led to de-icing salt becoming scarce, forcing many businesses to close without the means to keep their premises open. To avoid this happening again, Action Storage supplies 25 kg bags of brown or white salt, up to 8 of which are supplied with their Winter Preparation Kits. Stocking up early can enable businesses to avoid being caught out unprepared and to keep their doors open.
Four main types of Winter Preparation Kits are available: Winter Car Kit, Winter Driveway Kit, Winter Small Business Kit and the Winter Car Park Kit, and all contain a different array of items. The Winter Small Business Kit, for example, comprises of a 200 liter grit bin, 10 x 15kg bags of white de-icing salt, a small salt spreader, a salt scoop and a G4 snow pusher.
Further information on Action Storage's Winter Preparation Kits can be found on its website along with details on the 4000 other products in its range, where you can also order its 180 page catalogue free of charge. Councils can place orders on credit with a valid purchase order and all orders placed online receive an upfront 5% discount.
About Action Storage
For 25 years Action Storage has supplied shelving, racking and other storage equipment using the latest materials and innovative designs. Its clients include supermarkets, warehouses, government offices, schools and anyone else requiring high quality storage systems throughout the UK and mainland Europe.
Action Storage prides itself on its high service levels, and provides a free, unique advice line for discussing your requirements and assessing the perfect storage solution.
For service inquiries contact:
Website: http://www.action-storage.co.uk
Email: sales(at)action-storage(dot)co(dot)uk
Tel UK: 0800 592215
Outside UK: +44 (0)1908 525700
Fax: +44 (0)1908 321650
Action Storage
6 Fitzhamon Court
Wolverton Mill South
Milton Keynes
Bucks
MK12 6LB
Sources
http://www.guardian.co.uk/uk/2010/dec/01/snow-cost-uk-economy-more-than-6bn
###