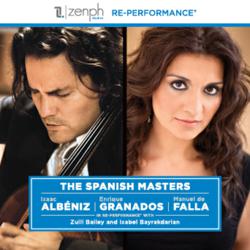 Our team was enchanted after hearing the original recordings. The rich character of the music and the distinctive performances of Albéniz, Granados and Falla made this a project we couldn't resist.
Research Triangle, North Carolina (PRWEB) October 25, 2011
Zenph Sound Innovations announces the release of The Spanish Masters, a collection of re-performances® of three distinguished composers: Isaac Albéniz, Manuel de Falla, and Enrique Granados. Sourced from some of the earliest known sound recordings in history, The Spanish Masters extends the acclaimed technological breakthrough featured on previous Zenph albums of Glenn Gould, Art Tatum, Sergei Rachmaninoff, and Oscar Peterson. World-renowned cellist Zuill Bailey and soprano Isabel Bayrakdarian appear on the album, which will be available on November 8, 2011
"Our team was enchanted after hearing the original recordings. The rich character of the music and the distinctive performances of Albéniz, Granados and Falla made this a project we couldn't resist," said co-producer and concert pianist Philip Amalong. "We are proud of what this new recording represents: a transcendence achieved with technology and pure musical passion."
At the beginning of the twentieth century, Isaac Albéniz, Manuel de Falla, and Enrique Granados were at the forefront of musical nationalism, composing works that gave a soundtrack to Spanish heritage. The Albéniz selections come from Edison wax cylinders dating to 1903, with the composer playing three improvisations. The Spanish Masters also offers the world-premiere recording of Albéniz' oft-revised La Vega in its original version, restored from the composer's manuscript and performed by Dr. Milton Rubén Laufer. The four re-performances from Granados' only recording session (1912) differ greatly from his initial published versions, though he subsequently taught his students to play his revisions. "Most of us are familiar with these men as composers, but what Zenph has managed to do is give us a window into their creativity as performers," notes Dr. Laufer.
The Spanish Masters showcases the possibilities of living artists in collaboration with re-performance artists. In a 1928 recording, Manuel de Falla accompanied a vocalist in his 'Siete Canciónes Populares Españolas' song cycle. This source recording, transformed into re-performances, enabled two of classical music's rising stars to duet with Falla at the piano in 2011. Zuill Bailey, appearing courtesy of Telarc Records, is widely considered one of the premiere cellists in the world. Canadian-Armenian soprano Isabel Bayrakdarian launched into an international opera career following her first prize win at the 2000 Operalia Competition founded by Plácido Domingo. "Every vocal student knows these songs," Ms. Bayrakdarian observed about 'Siete Canciónes.' "Performing them with the composer himself at the piano was an amazing experience."
The Spanish Masters is the first album to be released on the Zenph Studios label, an imprint launched by its parent company to pave the way for a catalogue of even more re-performances. Zenph Studios is partnered with Redeye, an independent distributor based in nearby Haw River, North Carolina. In addition to physical CDs and digital downloads, The Spanish Masters will be available in audiophile-quality high-resolution formats on HDtracks.
TRACK LISTING
Falla
1. El Paño Moruno 2. Asturiana 3. Jota 4. Nana 5. Canción 6. Polo
Zuill Bailey, cello - Manuel de Falla, piano
Albéniz
7. La Vega 8. Improvisación nº 1 9. Improvisación nº 2 10. Improvisación nº 3
7. Milton Laufer, piano 8-10. Isaac Albéniz, piano
Granados
11. Sonata nº 9 in B-flat Major (arr. of Scarlatti L.250) 12. Improvisación Sobre "El Pelele"
13. Danza Española nº 7 14. Danza Española nº 10
Enrique Granados, piano
Falla
15. El Paño Moruno 16. Seguidilla Murciana 17. Asturiana 18. Jota 19. Nana 20. Canción
21. Polo 22. Canción del Fuego Fatuo from "El Amor Brujo" 23. Soneto a Córdoba
Isabel Bayrakdarian, soprano - Manuel de Falla, piano
About Zenph Sound Innovations, Inc.
Zenph® Sound Innovations is a music technology company based in Research Triangle Park, North Carolina. The Zenph team, comprised of musicians, technologists, and product specialists, devotes itself to understanding precisely how musicians play. That understanding, combined with groundbreaking technology, produces incredibly rich, highly detailed data that is transformed into dazzling new recordings, products, and live re-performances®.
Zenph's work was named one of the "Best Ideas of the Year" by The New York Times Magazine and has received multiple GRAMMY® nominations. The astonishing fidelity and nuance of sound heard in the Zenph re-performance process has earned the company accolades from music lovers and critics the world over, including astonishing, back-to-back, perfect-10 reviews from The Absolute Sound and a "Record To Die For" distinction from Stereophile. Recent Zenph recordings with Sony Masterworks include Glenn Gould playing Bach's Goldberg Variations, Rachmaninoff Plays Rachmaninoff, Art Tatum Piano Starts Here: Live at The Shrine, and Joshua Bell At Home with Friends. The company also develops cutting-edge piano teaching software and tools, including high-resolution performance-editing software and its award-winning Home Concert Xtreme score-following software. For more information, visit http://www.zenph.com.
###