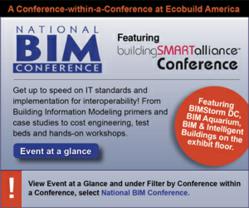 "Collaboration, integration, mobility and sustainability are linked by the common goals of optimization and competitiveness, maximizing value-added and minimizing cost."
Centerville, MA (PRWEB) October 23, 2011
GRAPHISOFT announces new Technology User Sessions and an ArchiCAD User Group meeting at Ecobuild®America, Washington, D.C. December 5-9, 2011. The learning track will run throughout the event and give architects, engineers, and contractors the opportunity to explore the latest software applications designed specifically to meet their ever-changing needs. The ArchiCAD User Group event will teach practitioners tips, tricks and features related to ArchiCAD.
"The AEC space is in transition, and among the most influential drivers are BIM and other technologies deployed throughout the space," says Steve Benford, Managing Director, GRAPHISOFT North America. "Collaboration, integration, mobility and sustainability are linked by the common goals of optimization and competitiveness, maximizing value-added and minimizing cost."
"GRAPHISOFT is out front with our solutions such as the BIM Server for real time collaboration, Eco-Designer our fully integrated building energy modeling application, and BIMx for design communication and presentation. We're excited to be at Ecobuild and have the opportunity to help practitioners -- architects, engineers, contractors and owners -- make sense of the tools available to them, and better understand how to leverage technology to their best advantage."
A brief summary of GRAPHISOFT tech user sessions follow:
Energy Analysis Simplified with BIM – A demonstration of how ArchiCAD BIM software integrated with EcoDesigner extends the limits of BIM-integrated sustainable design technology, providing real solutions to relevant green building design issues.
Interoperability: Leveling the Playing Field - Move away from working in an environment of disconnected silos. Learn how to:

Effectively filter and save your models as IFC so they are useable by extended project teams.
Use common reference standards and classification systems like OmniClass throughout the building lifecycle.
Realize the positive impact of IFC on sharing BIM data for sustainable projects and energy analysis.
Teaching BIM to your 2D CAD Team - Over 80% of BIM users were once 2DCAD users, so you will be in good company while you learn:

How BIM automatically handles the management of drawing scale configurations and layer assignments, freeing up more of your time to focus on design instead of mundane tasks.
How 2D documentation is automatically generated and updated in the background while you create your Building Information Models.
The benefits of a BIM approach for sustainable design. Also see the related session "BIM & High Performance Collaboration".
BIM & High Performance Collaboration - Learn how GRAPHISOFT® ArchiCAD® combined with GRAPHISOFT® BIM Server™ will let your team:

Share projects between cross-disciplinary project members and involve each in the design process.
Protect project data and support user rights for team management.
Discover conflicts and resolve them live in the model in minutes, rather than days or weeks.
Evaluate the benefits of working within a single model that is always up-to-date with complete information.
5 Ways to Expand Your BIM Utilization Today – Expand on your BIM utilization and start reeling in the benefits when you
Learn how GRAPHISOFT® BIMx™ lets you explore, communicate and share your models with every project team member – even if they don't know BIM or own BIM software
Use BIM tools to create complex objects and building components
Pair your BIM model with Google Earth for building siting and viewshed management
Learn how ArchiCAD's BIM engine can be used to verify project data and provide calculations for the certification process
Create custom, interactive schedules to list and manage any items in your BIM model
ArchiCAD User Group Meeting - Meet and collaborate with your peers at the ArchiCAD User Group. GRAPHISOFT representatives will be at hand to discuss future trends and address questions. The featured topic for this meeting will be GRAPHISOFT EcoDesigner. Join us to learn how to greater optimize your early designs by understanding the energy performance implications of design alternatives.
About GRAPHISOFT
GRAPHISOFT® ignited the BIM revolution with ArchiCAD®, the industry first BIM software for architects. GRAPHISOFT continues to lead the industry with innovative solutions such as the revolutionary GRAPHISOFT BIM Server™, the world's first real-time BIM collaboration environment, and the GRAPHISOFT EcoDesigner™, the world's first fully integrated building energy modeling application. GRAPHISOFT's innovative solutions have fundamentally changed the way architects around the world design and collaborate. GRAPHISOFT® has been part of the Nemetschek Group, since its acquisition in 2007
About AEC Science & Technology®, LLC
Under the leadership of principals Richard C. Vendola, Jr., and George Borkovich, AEC
Science & Technology®, LLC (Centerville, MA), manages and produces Ecobuild®
America. Together they have a depth of experience in technology and event planning for the AEC industry, including creating and managing the former A/E/C SYSTEMS International conference and exhibition. The events cover the unique intersection where ecology meets technology. Proud member of: buildingSMART alliance™; Green Building Initiative; High Performance Building Congressional Caucus Coalition; United States Green Building Council; and Zero Energy Commercial Building Consortium.
# # #