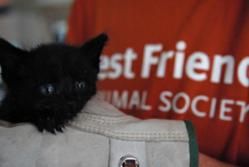 The sad truth is is poisoning is indiscriminate and inhumane means of controlling animal populations and unnecessary, when growing shows trap-neuter-return ( TNR) is the most efficient and cost-effective method.
Kanab, Utah (PRWEB) October 22, 2011
Intentional poisoning of free-roaming cats, done in some areas of the country with the intent of protecting birds, unintentionally threatens both pets and wildlife, according to animal welfare experts at [Best Friends Animal Society, a national animal welfare organization.
In the news over the last several months, the deliberate poisoning of free-roaming cats came to light because an employee of the National Zoo allegedly put rat poison in food provided to homeless cat colonies in the Washington, D.C. area.
Nico Dauphine, a postdoctoral fellow with the Smithsonian Migratory Bird Center at the National Zoo, has been charged with attempted animal cruelty relating to the apparent poisoning of outdoor cats in her Columbia Heights neighborhood. Her non-jury trial is scheduled for Oct. 24 in the District of Columbia Courts, 2011 CMD 008754.
"There are no 'safe poisons' and there is no 'safe way' to poison," says Dr. Frank McMillan, director of well-being studies at Best Friends Animal Society. "Poisons set out for cats cannot be made risk free for other animals and it may be directly ingested by peoples' pets as well as animals other than cats (so called "non-target animals"). "Consequently, secondary poisoning can occur to any animal eating the remains of the poisoned animal."
Laura Nirenberg, Best Friends' legislative analyst for cat initiatives and a certified wildlife specialist, added: "The sad truth is that not only is poisoning an indiscriminate and inhumane means of controlling animal populations, it is unnecessary, especially when growing evidence from communities across the country show that trap-neuter-return, commonly known as TNR, is the most efficient and cost-effective method." **
Nirenberg said it was unfortunate and misguided that opponents of free-roaming cats call for the criminalization of TNR, and as a result they have resorted to poisoning.
"For decades towns and municipalities have been trapping and killing cats, yet the problem of free-roaming cats continues to exist. This failed policy has led to a heartening trend of communities adopting TNR policies," Nirenberg said.
"For individuals rightfully concerned about birds being killed by cats, it's important to note that there are no studies that prove cats kill uncompromised birds. Bird deaths—although often attributed to cat predation —likely were caused by those animals accessible to cats because of other harms/threats (poisons, insecticides, illness/disease, window strikes, roadway hazards, etc.).
"If the goal of those concerned with predation issues is to truly minimize the impact free-roaming cats on wildlife, then controlling population growth through TNR is a worthy endeavor."
**In one of the very few controlled studies to compare sterilized/managed and unsterilized/managed colonies of feral cats, researchers observed a 36 percent average decrease in population among six sterilized colonies in the first two years, while three unsterilized colonies experienced an average increase in population of 47 percent (Stoskopf & Nutter, 2004). A four-year follow-up census revealed that one colony had been reduced from 10 cats to none; at seven years, another colony originally containing 10 cats had been reduced to one. In addition to the steady population decreases observed among sterilized colonies, data show that sterilization of adults in the control colonies (which were initially left unsterilized) was beginning to slow, and then reverse, initial population increases (Nutter, 2005).
Source: "Stoskopf and Nutter (2005). Analyzing approaches to feral cat management—one size does not fit all. Journal of the American Veterinary Medical Association 225(9): 1361-1364; and dissertation by Felicia Nutter (2005). Evaluation of a Trap-Neuter-Return Management Program for Feral Cat Colonies: Population Dynamics, Home Ranges, and Potentially Zoonotic Diseases. North Carolina State University, available at http://www.carnivoreconservation.org/files/thesis/nutter_2005_phd.pdf.
About Best Friends Animal Society
Best Friends Animal Society is a nonprofit organization building no-kill programs and partnerships that will bring about a day when there are No More Homeless Pets®. The society's leading initiatives in animal care and community programs are coordinated from its Kanab, Utah, headquarters, the country's largest no-kill sanctuary. This work is made possible by the personal and financial support of a grassroots network of supporters and community partners across the nation.
Become a fan of Best Friends Animal Society on Facebook: http://www.facebook.com/bestfriendsanimalsociety
Follow Best Friends on Twitter: http://twitter.com/BFAS
For more information contact:
Barbara Williamson
Best Friends Animal Society
435-644-4408 (or) 435 689-0200 (cell)
barbara(at)bestfriends(dot)org
John Polis
Best Friends Animal Society
(435) 644-4858
johnp(at)bestfriends(dot)org
###