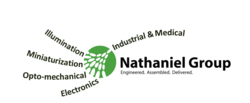 ...this technology will allow us to grow our Vermont operations using a significant amount of US sourced components
Vergennes, VT (PRWEB) October 24, 2011
Nathaniel Group, Inc. (NGI), a leading specialty optical equipment designer and manufacturer, today announced a breakthrough in illumination technology for medical and industrial applications. The technology channels enormous quantities of photons through an optical fiber the diameter of a human hair to produce intense white light and allow a proportionate shrinkage in the size of the imaging systems.
The technology is being marketed as the Hyperion 300™ Optical Fiber Illuminator. It represents an important milestone for medical and industrial illumination by enabling applications that until now were only imagined. The Hyperion 300 platform is optimized to deliver up to twenty times the light levels of ordinary sources through fibers as small as 170 microns in diameter. The Hyperion 300 represents the latest edition to Nathaniel Group's portfolio of products created to optimize light delivered for medical, scientific and industrial applications.
According to market research firm Global Industry Analysts, Inc. (San Jose, California), the global medical fiber optics market will reach US$887 Million by 2015. A key factor driving market growth is the rapidly increasing demand for improved medical fiber optic systems used for illumination, imaging, and delivery of laser light. Innovative and new areas of medicine, in which fiber optics can be used, are also creating abundant opportunities for medical fiber optics. The need for small and efficient optical fibers is fast gaining importance with the growing need for minimally invasive surgery and diagnostics.
Light is channeled through fiber optics to illuminate areas inside the body which are visualized using miniature medical cameras. Today's medical cameras are becoming smaller and pixel sizes are shrinking making them less sensitive. The size of the light channel must shrink as well to create a smaller endoscope or catheter but traditional illumination sources leave the camera light starved and the surgeon with a dark and grainy image for critical work. The dynamics are fundamentally changed when using the Hyperion 300™ to create bright and clear images.
"We decided to tackle an illumination problem that has limited many customers – more light from smaller fibers for cameras." stated Joel Melnick, Nathaniel Group's chief executive officer. "It was not easy to balance competing requirements but we are pleased that leading medical device manufacturers are moving to integrate our technology into their platforms. Additionally, this technology will allow us to grow our Vermont operations using a significant amount of US sourced components fitting nicely with our mission as an environmentally and socially responsible business. "
The Hyperion 300 platform can be integrated into most medical and industrial equipment. For more information and a free technical paper, please visit http://www.nathaniel.com/optical.php.
About Nathaniel Group
Nathaniel Group, Inc. (NGI) is a world leader in original equipment designer and manufacturer. Through close collaboration with its global customers, the company implements its flexible design model to develop reliable, high-quality, low-cost-of-ownership solutions that are easily integrated into new or existing systems. The company excels at design for manufacturability exercising full use of its lean manufacturing operations to customer advantage. Key markets include medical devices, scientific and medical imaging, and specialized electronics.
Founded in 1984, Nathaniel Group is headquartered in Vergennes, Vermont, and operates via a global customer support network. The company's unique onshore sourcing business approach (engineered – assembled - delivered) is supported by technology integration, allowing NGI to respond quickly to new developments, apply the technology to manufacturing challenges and expedite device manufacturing in high volume. A member of the Vermont Biosciences Alliance and Vermont Businesses for Social Responsibility, Nathaniel Group has been a recipient of the VBSR Small Business Leader Terry Ehrich award for excellence in socially responsible business practices as well as Vermont Business Magazine's 5x5x5 awards in multiple categories. Nathaniel was also honored by the State of Vermont for its practices in employing people with disabilities. More information is available at http://www.nathaniel.com .
###