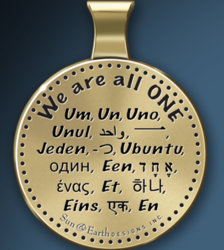 "Unless we have that sense of solidarity among the peoples of the world, all our efforts of peace and security will go nowhere," Anwarul Chowdhury, leading emissary of the U.N. Culture of Peace Initiative.
(PRWEB) October 21, 2011
Sun & Earth Designs (http://www.sunandearthdesigns.com), a rising spiritual and socially conscious jewelry designer, announced today the launch of a new line with global grassroots Humanity's Team (http://www.humanitysteam.org) to espouse the Oneness of humanity and the interconnectedness of all life. As part of the launch, "Beliefnet" (http://www.beliefnet.com), the leading resource for inspiration and spirituality, will host starting Oct. 24th a contest asking readers their ideas on creating and fostering global peace and creating a sense of solidarity among the peoples of the world and 10 winners will receive the new pendants. A new ecommerce site has been launched by Sun & Earth Designs for the Humanity's Team Project (http://www.globalonenessdesigns.com). Major celebrities support the Humanity's Team Global Oneness Day movement and will participate in Oct. 24th events, including Neale Donald Walsch, Anwarul Chowdhury of the U.N., Yoko Ono, Archbishop Desmond Tutu, former UNESCO Director-General Federico Mayor Zaragoza, Deepak Chopra, Sharon Stone, Kenny Loggins, Barbara Marx Hubbard, Michael Beckwith, don Miguel Ruiz, Rabbi Michael Lerner and more.
"The goal of this new line is to further the message that we are all one at a time when it's critical that the world embrace this awareness," said Sun & Earth Designs founder and designer Michele Bongiovanni. "There could not be a more important message in the cause of world peace, and we are honored to work with Humanity's Team on this noteworthy initiative. This is not just another line of jewelry—it's a statement affirming people's unity with each other and with life itself. We intend for this symbol to unite like-minded individuals in their quest for global peace."
The key Humanity's Team project the jewelry line supports is Global Oneness Day (http://www.global-oneness-day.org) October 24th which Humanity's Team created last year with support from non-governmental organizations worldwide. The day will be celebrated this year with parades, concerts, dance, exhibitions, educational events and other activities in more than 40 countries.
Its creation followed the movement's presentation to the United Nations (U.N.) of a petition signed by 50,000 people from 168 countries appealing to the body to support the day's creation.
On receiving the signatures, veteran envoy Anwarul K. Chowdhury said peace efforts, no matter how well-intentioned, would not succeed until people recognized we are all one. "I believe that unless we have that sense of solidarity among the peoples of the world, all our efforts of peace and security will go nowhere," Chowdhury, the leading emissary of the U.N. Culture of Peace initiative, said at an indoor ceremony at U.N. headquarters in front of the Chagall Peace Window.
Oneness brings about an appreciation of humanity's interdependence, which supports tolerance, understanding and solidarity, necessary steps toward peace, said Chowdhury, also a former undersecretary-general and high representative of the U.N.
Humanity's Team is continuing its global signature drive to demonstrate the groundswell of Global Oneness Day support and encourage member countries to support U.N. recognition of the day. U.N. recognition would mean the world body, for the first time, would officially proclaim Oneness an issue in which it has a permanent interest and commitment. The United Nations' founding ideals are Unity, Diversity, Harmony and Compassion within and among all nations and peoples.
The Sun & Earth pendants and charms promoting Oneness, available at http://www.globalonenessdesigns.com, come in bronze and silver rhodium options, with pendant-bale stones especially selected for their meanings. The pendant and charm front design shows a unified world and the back declares "We are all One," listing "ONE" in 20 languages. MSRP ranges from $25-$60. Fifteen percent of all sales will go to Humanity's Team to help support its Oneness initiatives.
Humanity's Team is a global spiritual movement whose purpose is to embody the timeless truth of Oneness, which the movement sees as essential for responding to the world's most chronic and acute challenges and vital to creating a sustainable world of peace and harmony. For more information, contact Gerry Harrington at gerry.harrington(at)humanitysteam(dot)org or by phone at (845) 331-7168.
Sun and Earth Designs has captured the rise of socially conscious/responsible jewelry as a trend and brought forth the values of underlying unity within our diverse global cultures - as well as Oneness with each other and with God - via jewelry symbols in both new designs and ancient replications. For more information about the fast-growing year-old company and its collections, please contact Sarah Mullins at sarah(at)sunandearthdesigns(dot)com or by phone at (908) 450-7315.
# # #