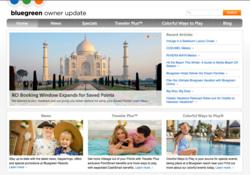 "We are proud to receive recognition and a Gold Award from the 2011 IHAF Awards," explains Izzy Pycher, Vice President of Creative Services.
Boca Raton, Fl (PRWEB) October 24, 2011
Bluegreen Corporation (NYSE: BXG), a leading provider of Colorful Places to Play, announced that the company's monthly owner email and corresponding website collectively referred to as the Owner Update, received the Gold Award for Digital Publication in the 2011 In-House Agency Forum (IHAF) Awards.
Bluegreen's online publication and corresponding email, serve as a source of resort news and offers exclusive vacation deals, upcoming cruise and getaways, and other communications to Bluegreen Vacation Club Owners. The site made its debut in mid-2011 and is updated monthly with new offers, promotions, information and more. See more at ownerupdate.bluegreenvacations.com
"We are proud to receive recognition and a Gold Award from the 2011 IHAF Awards," explains Izzy Pycher, Vice President of Creative Services. "The Owner Update site is the product of the creativity and innovative spirit that drives Bluegreen to provide the best, most state-of-the-art communications to our owners."
Other companies in the Digital Publication category include Hewlett-Packard, the Silver winner, and John Hancock, which won the Honorable Mention.
IHAF was established in 2005 to create a community for in-house agencies to share and gain knowledge regarding the unique business of running an in-house creative services operation. The IHAF Awards recognize creative excellence from in-house agencies across a variety of print and digital media. Awards include Gold, Silver and Honorable Mention, as well as Best of Show and are formally announced and displayed at the IHAF Awards Show in October.
"I am thrilled to learn that we won this award," said Wendy Poe, Chief Customer Office for Bluegreen Corporation. "This website has truly revolutionized how we are communicating with our owners. The new picture-rich platform allows us to give owners a living, breathing library of announcements and information to enhance their ownership."
"Our creative team really rose to the challenge on this project and completed the new format in less than 60 days from concept to deployment," Poe said.
ABOUT BLUEGREEN CORPORATION
Founded in 1966 and headquartered in Boca Raton, FL, Bluegreen Corporation (NYSE:BXG) is the leader in providing Colorful Places to Live and Play through its vacation ownership resort and residential real estate business segments. Our more than 3,500 employees are passionate about delivering extraordinary experiences for our owners, travelers and business partners. Since 1996, Bluegreen has managed, marketed and sold a flexible, real estate-based vacation ownership plan with more than 222,600 owners, over 54 owned or managed resorts, and access to more than 4,000 resorts worldwide. Since 1985, Bluegreen Communities has developed master-planned residential and golf communities primarily in the southern and southeastern U.S., and has sold over 55,000 home sites. We also offer a portfolio of comprehensive, turnkey, fee-for-service resort management, financial services, customer generation and sales solutions to third-party developers and lenders. For more information, visit us online at http://www.bluegreencorp.com. See what Bluegreen owners are saying on Facebook or follow us on Twitter.
###