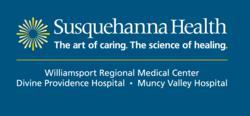 At Susquehanna Health, we value the provision of extraordinary care for everyone who receives our services and believe that is only possible by creating a culture that demonstrates the value of and shares ownership with our service partners
WILLIAMSPORT, PA (PRWEB) October 21, 2011
Susquehanna Health was named one of the Best Places to Work in PA for the fourth consecutive year and will be recognized during an awards ceremony in December in Lancaster, PA.
Best Places to Work in PA was developed 11 years ago as one of the first statewide programs of its kind in the country. The survey and awards program was designed to identify, honor and recognize the best places to be employed in Pennsylvania as a benefit to the state's economy, workforce and businesses.
"We are honored to have consistently achieved the Best Places to Work in PA award for the last four years. At Susquehanna Health, we value the provision of extraordinary care for everyone who receives our services and believe that is only possible by creating a culture that demonstrates the value of and shares ownership with our service partners," said Susquehanna Health President & CEO Steven Johnson.
Susquehanna Health was selected as one of the 50 large-size companies to receive the Best Places to Work in PA award.
Companies from across the state entered the two-part process to determine the 100 Best Places to Work in PA. The first part of the process was evaluating each nominated company's workplace policies, practices, philosophies, systems and demographics. This part of the process was worth about 25 percent of the total evaluation. The second part consisted of an employee survey to measure the employee experience. Because Susquehanna Health employs about 3,000 service partners, 400 were randomly selected by Best Companies Group to participate in an online employee experience survey. This part of the process was worth approximately 75 percent of the total evaluation. The combined scores determined the top companies and the final ranking.
The complete list of the 2011 Best Places to Work in PA award recipients is available online at http://www.bestplacestoworkinpa.com and http://www.centralpennbusiness.com. The awards program is a public/private partnership between Team Pennsylvania Foundation, the Pennsylvania Department of Community and Economic Development, the Pennsylvania State Council of the Society for Human Resource Management and the Central Penn Business Journal. For more information on Best Places to Work in PA, please contact Susanne Eaken, Central Penn Business Journal, at 717-236-4300 or susannee(at)journalpub(dot)com. For more information about Susquehanna Health, please visit SusquehannaHealth.org.
About Susquehanna Health
Susquehanna Health is a three-hospital integrated health system including Divine Providence Hospital, Muncy Valley Hospital and Williamsport Regional Medical Center located in northcentral Pennsylvania. Serving patients from an 11-county region, Susquehanna Health is a healthcare leader and has been recognized at the national and state levels for quality of care. Susquehanna Health offers a wide array of services that include cancer treatment, heart and vascular care/heart surgery, neurosciences including neurosurgery, orthopedics, urology, OB/GYN, gastrointestinal services, behavioral health, physical rehabilitation, home care, long term care, assisted living and paramedic/ambulance services.
###