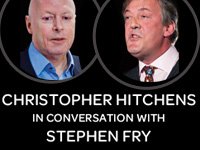 San Francisco, California (PRWEB) October 24, 2011
FORA.tv, the leading online destination for video programs from the best conferences and events, announced that it will team up with Intelligence² UK, the world's premier debating forum, on Wednesday, November 9, 2011 to live stream an exceptional conversation between famed public intellectual Christopher Hitchens and his good friend, actor and writer Stephen Fry. The live stream broadcast will start at 8:30pm GMT (3:30pm ET and 12:30pm PT).
This highly anticipated, sold out event will originate from Southbank Centre's Royal Festival Hall in London, England. Beyond a closed circuit simulcast to a limited number of theaters in the United Kingdom, FORA.tv will serve as the exclusive global distributor of the live program. Tickets for live and on-demand viewing can be purchased for £5 (approx. $7.88 U.S.) hitchfry.fora.tv and the event will begin streaming on Wednesday, November 9.
For over forty years Christopher Hitchens, the celebrated writer and iconoclast, has written and spoken with passion and commitment on matters that others fear to broach. His life has been one of defiance, wit and humility. Now his life is threatened by cancer, but his devotion to the truth and his extraordinary courage are undiminished. Accepting the Richard Dawkins Freethinker of the Year Award in Houston on October 10, Hitchens told the audience "I'm not going to quit until I absolutely have to."
For this special event from Intelligence², Hitchens will join in conversation via satellite from Washington D.C. with his friend Stephen Fry who will appear onstage at the Southbank Centre's Royal Festival Hall in front of a sell-out audience of 2,500. This FORA.tv live stream provides audiences around the world with an extraordinary opportunity to hear one of the great public intellectuals of our age discuss politics, literature and, as Hitchens puts it, 'the things that make life worth defending – foes like faith and false consolation.'
About FORA.tv
FORA.tv is the leading online destination for video programs from the world's best conferences and events. With more than 10,000 free and fee-based videos, FORA.tv has the web's largest collection of programs that feature the people, issues, and ideas changing the world. FORA.tv helps hundreds of organizations including the Aspen Institute, the Economist, the New York Public Library, and Wired expand the audience for their events. FORA.tv has been named a Top 50 Web Site by TIME, and a Top Education Site by The Telegraph. FORA.tv is funded by a select group of investors led by William R. Hearst III and is based in San Francisco. For more information, visit http://fora.tv.
About Intelligence²
Intelligence² has built a global reputation for staging live talks and debates on the most important political and cultural issues of the day. They have carved a niche in intellectual adventure, producing dazzling live events which attract sophisticated opinion formers week in week out. Their speakers are world experts, and they work with numerous media partners to extend the reach of their events, including the BBC who regularly broadcast Intelligence² events to a worldwide audience of 70 million viewers.
Press Contact:
Rob Flynn,
VP, Sales and Marketing
FORA.tv
Phone: 202-677-5008
###