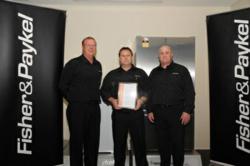 London, UK (PRWEB) October 23, 2011
Fisher & Paykel, one of the world's leading manufacturers of household appliances, is celebrating its success in a national customer survey.
The company were winners of Domestic & General's Total Quality & Excellence (TEQ) Award 2011, which rewards excellence in customer care.
The TEQ Awards have been introduced in Australia this year after being widely credited with driving improved service standards in the UK repair industry. They provide a unique insight into customer care within the sector, by looking at the complete home appliances repair process from the politeness of the initial call handling through to the efficiency and courtesy of the repair agents.
The awards are based on feedback from thousands of questionnaires distributed by Domestic & General - the Australia's fastest growing provider of warranty services and product protection plans for domestic appliances, electronic equipment and gas central heating systems.
Tim Kirkup, General Manager of Fisher & Paykel Customer Services of Australia said, "The whole Fisher & Paykel Customer Service team are proud and delighted to be the inaugural winners of this award. We see it as recognition of the hard work put in by everyone to provide a first class customer journey. We would like to thank Domestic & General for introducing this award to the service industry and also thank all our customers who took the time to be part of the survey."
John Henry, Operations Director of Domestic & General Australia commented, "We are proud and delighted to recognise the excellent customer service provided by Fisher & Paykel. Their standards of professionalism, knowledge and courtesy are second to none, and are making a vital contribution to the ever increasing levels of consumer satisfaction within our industry."
Notes For Editors:
Domestic & General provides warranty services and comprehensive product protection for more than ten million customers.
For over sixty years we have been looking after people when things go wrong. Our primary focus is on providing product protection for major domestic appliances and consumer electronic products. Together with our manufacturing, retail and financial services clients, we provide warranty services for over 160 major International brands. We manage the whole warranty process, including: customer mailing; contact centres; repair networks; in-house administration; claims handling.
We operate across a number of different international markets, most notably in the UK, Australia, Germany, Spain and France.
###