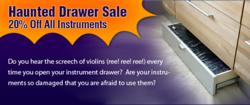 Gaithersburg, MD (PRWEB) October 25, 2011
Roboz Surgical, a leading supplier of surgical instruments for biomedical research, announces a promotion to encourage scientists to replace their instruments. The Haunted Drawer Sale for Halloween offers customers a 20 percent discount on surgical instruments ordered before November 1, 2011. To find our more, visit the promotion's web page at http://www.roboz.com.
High quality instruments are essential for precision work. Yet, drawers in research labs are often full of surgical instruments that are in a bad shape because they have been used or stored improperly or simply have been used for too long. "Our sale will help replace damaged instruments and ensure that researchers can continue working with the best equipment while staying within their budgets," says Ray Hodgson, General Manager of Roboz.
Roboz Surgical has been a trusted name in the life sciences industry for nearly 60 years. Roboz instruments are hand-crafted and finished to perfection in Germany to assure the highest level of quality and durability. Visit shopping.roboz.com to see the full line of micro surgical instruments offered by Roboz.
# # #