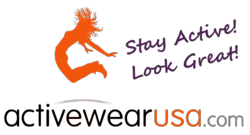 We're delighted to be partnering with ActivewearUSA.com because we think it's a great fit for our members
Charlotte, NC (PRWEB) October 25, 2011
As the leading online retailer for high performance, stylish, multi-brand women's activewear, ActivewearUSA.com loves to engage with customers who want to look their best while keeping fit. Today, the company has announced a strategic partnership with SparkPeople.com, the most active on-line weight loss and fitness community in America, and will be bringing the latest in activewear fashions and accessories from more than 70 brands to the millions of SparkPeople members.
SparkPeople has grown to be America's largest diet and fitness website with a breakthrough formula that combines goal setting, nutrition, exercise, motivation, and social networking to help its members lose weight, improve their health and reach their goals. With this partnership, ActivewearUSA.com will be able to expand its reach to a core audience that seeks quality and performance from their workout gear and are eager to share their favorite styles and tips with other members of their online community.
"We can't wait to share the broad selection available at ActivewearUSA.com with members of the SparkPeople community," says Avi Woolman, Founder and CEO of ActivewearUSA.com. "Through this partnership we will be able to reach the most engaged fitness and healthy-lifestyle community anywhere, the people who are most excited about improving their lives and provide them with the best choices, reviews, and information on activewear, fitness gear, and fitness makeovers".
"We're delighted to be partnering with ActivewearUSA.com because we think it's a great fit for our members," said SparkPeople Founder and CEO Chris Downie. "They want to look their best while they're working out, and as their bodies become more fit and healthy, buying new clothes can be a reward in itself. With ActivewearUSA.com, we can rest assured that our members will need to look no further than our site to find a wide selection of world-class apparel."
About ActivewearUSA.com
ActivewearUSA.com was founded with the goal of providing the best yoga clothing and women's workout clothes on the market, to encourage women to look and feel their best, while enhancing their life through fitness. Priding themselves on incredible and personal service, ActivewearUSA.com carries more than 70 high-performance, stylish activewear brands, and sponsors women's fitness-focused groups all over the country.
About SparkPeople.com
Headquartered in Cincinnati, SparkPeople.com is a multi-platform media and technology company with leading health, fitness and food websites and mobile applications. Its mission is to spark millions of people to reach their goals. SparkPeople is employee-owned, with one outside minority investor, AOL Founder Steve Case. With over 11 million members in more than 100 countries, SparkPeople's websites, which are free, include SparkPeople.com, BabyFit.com, dailySpark.com, SparkRecipes.com, SparkSavings.com and SparkTeens.com. SparkPeople provides free mobile apps for diet and fitness as well as healthy recipes for the iPhone, iPad, Android and Blackberry platforms. SparkPeople attracts more than 7 million unique visitors, 111 million page views (Google Analytics) and nearly 250,000 new members a month. According to comScore, SparkPeople attracts more unique visitors than any other diet and fitness site, and is one of the most active healthy living and food sites. SparkPeople Founder and CEO Chris Downie's book, The Spark, was a New York Times bestseller in 2010. The SparkPeople Cookbook: Love Your Food, Lose the Weight by World Master Chef Meg Galvin has been in the Amazon Top 100 since launching on October 4, 2011.
###