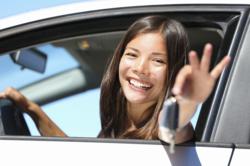 Nationwide and SafeWay share a passion for improving the skills of all drivers and of promoting safe and responsible driving, especially to teens.
Houston, TX (PRWEB) October 23, 2011
Houston-based Barhorst Insurance Group (BIG), Nationwide Insurance, and SafeWay Driving Centers combine efforts to campaign against distracted driving and promote safety and responsibility behind the wheel.
It's all about safety
"The statistics are grim," states Barhorst Insurance Group CEO, Warren Barhorst. "With the amount of potential distractions available today, it's no wonder teens have problems keeping their focus on driving. We want to call attention to this and remind our teenagers that it only takes a split second—eyes off the road, attention elsewhere—and consequences can be devastating."
Motor vehicle crashes are the #1 killer of American teens with an average of 11 teen deaths each day. According to the National Highway Traffic Safety Administration (NHTSA), teenagers are involved in three times as many fatal crashes as all other drivers.
NHTSA reports research that shows the behaviors that contribute to many teen-driving accidents. Those behaviors, combined with inexperience and immaturity, are: drinking and driving, speeding, distracted driving (cell phones, talking with passengers, loud music), driving at night; drowsy driving, and not wearing a seat belt.
Nationwide's Driving While Distracted Survey
Nationwide Insurance's Driving While Distracted survey shows Americans are seeing first-hand the dangers of driving while distracted. The survey reveals that four out of 10 Americans say they have been hit or nearly hit by a driver distracted by their cell phone. Other facts include:
· 25% of cell phone users download mobile applications to their cell phones
· 37% of cell phone users under the age of 35 download mobile apps to their cell phones
· More than one in four Americans who download apps admit to using those apps while driving
· The cell phone apps most used while driving are ones that allow drivers to access GPS, send and receive mail, search the Internet and read and post messages on Facebook and Twitter
· Nearly half of Americans who download mobile applications say they download social networking apps such as Facebook and Twitter
· 65% of Americans under the age of 35 say they download social networking apps
Nationwide's Partnership with SafeWay Driving Centers
To further its commitment to safe driving, Nationwide has maintained a long and successful alliance with SafeWay Driving Centers, the largest driving school in the Greater Houston Area and Texas. SafeWay's exclusive partnership with Nationwide offers insurance discounts to students and their families after they successfully graduate from one of its centers. The two companies work together to promote and encourage safe driving for all drivers.
SafeWay currently has eight locations and 28 cars serving the Texas communities of Memorial, Woodlands, Kingwood, Bellaire, Spring and Klein. It trains more than 5,000 drivers a year with plans to expand the concept into the future. Earlier in the year, the company launched its "Thumbs Up While Driving" campaign. Yellow thumb bands encouraged teens to stop texting and driving.
Founded in 1973, SafeWay is owned and operated by the Coleman family of Houston. The family's son, Brad Coleman, was the youngest professionally licensed racecar driver in U.S. history when he took driver education from SafeWay at just 15 years of age. Brad went on to set a world racing record at 16 years old and ultimately became a professional racecar driver for Joe Gibbs Racing in NASCAR. As Brad travels the NASCAR circuit, he speaks to high school students about the dangers of texting and driving or drinking and driving.
"Nationwide's partnership with SafeWay Driving Centers is a perfect match," says Barhorst. "This is a critical time for families as their children venture out on the road. Nationwide and SafeWay share a passion for improving the skills of all drivers and of promoting safe and responsible driving, especially to teens."
For more information:
http://www.nhtsa.gov
http://www.saferoads4teens.org/standup-act
http://www.nationwide.com/newsroom/safety.jsp
http://www.safewaydriving.com
About National Teen Driver Safety Week
National Teen Driver Safety Week was established by Congress in 2007 in response to the more than 5,000 teens that died in teen-driver related crashes on U.S. roads in 2006. Outreach efforts, such as National Teen Driver Safety Week campaigns, are needed so that families going through the learning-to-drive process are supported by their communities. It will take the will and initiative of teens, families, schools, law enforcement officers, and policymakers to successfully address the leading cause of death and acquired disability for U.S. teens.
Barhorst Insurance Group
The Barhorst Insurance Group (BIG) was founded in 1993 as a Nationwide Insurance agency and today is a captive hybrid agency representing more than 50 insurance carriers. In 18 years, the company has grown to more than 100 employees and over 30 locations in Texas.
BIG provides a full range of insurance and financial services for families and businesses, including: auto, motorcycle, boat, homeowners, life, farm, flood, commercial, Texas Workers Compensation, administrative services, annuities, mortgages, mutual funds, pensions, long-term savings plans and health and productivity services.
For more information, call 713.856.5533 or visit big-usa.com.
###