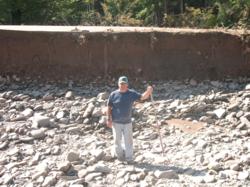 We cannot just sit back while this area loses yet another farm. We're calling the fundraising effort 'Table to Farm' – it's time to give back.
Big Indian, NY (PRWEB) October 31, 2011
On Thursday, November 24th, Peekamoose Restaurant is offering a special "Table to Farm" prix fixe menu to benefit RSK Farm, which was severely devastated by the recent hurricane.
Bob & Sandy Kiley of RSK Farm possess a wonderful integrity having grown some of the most delicious produce available in our region.
Marybeth Mills, who owns Peekamoose with her husband, says "Quite simply, if you've enjoyed a meal in the Catskills or the Hudson Valley, then chances are, you've had the pleasure of tasting RSK Farm. They've been making us look good for the past eight years with their commitment to quality and flavor."
Proceeds from the evening's sales will go directly to assisting Bob & Sandy rebuild their farm.
The devastation to the area's agriculture from Hurricane Irene has certainly been felt by the area's eateries. According to Bob Kiley of RSK Farm, "this Fall was shaping up to be a banner season, then Irene changed all that." Produce is alarmingly scarce and it is having a profound impact on the Hudson Valley and Catskills region's restaurants.
"RSK Farm is highlighted on restaurant menus all over the Hudson Valley. The Kileys have always championed the lesser known, heirloom varieties of vegetables. Most of these varieties would be extinct if it weren't for the small, independent farmer. "We cannot just sit back while this area loses yet another family operated farm," says Mills.
The $36 per person, three-course dinner ($14 per child) features traditional holiday favorites, including locally sourced heritage turkey and all of the trimmings. There are two seatings: 5pm and 7pm.
Please call 845-254-6500 for reservations, or simply book online at http://www.peekamooserestaurant.com
**If you can't get out of Thanksgiving dinner at your In-Law's, then you can always donate at http://www.help-the-farm.org/
# # #