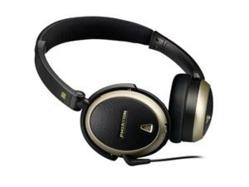 They are comfortable, stylish and most importantly great-sounding.
South Hackensack, NJ (PRWEB) October 24, 2011
As a leading retailer of headphones, earphones, and headphone accessories, Headphones.com is excited to announce the addition of Phiaton headphones and earphones to their product selection. Phiaton, part of Cresyn Co., LTD is manufactured with components found in many of the world's leading headphones and earphones. With over 41 years experience in consumer electronics, Cresyn's experience and Phiaton's ambition to bring style and good sound to consumers has produced a headphone that is sure to please the ears of audio enthusiasts.
"We are excited the new additional of Phiation products to our merchandising mix." said Headphones.com General Manager Brian Gluck. "They are comfortable, stylish and most importantly great-sounding."
Phiaton's earphone line ranges from the PS 20 which boasts a dual chamber, optimized canal dampers, and soft silicon ear tips for maximum comfort and sound quality. As you move up the earphone line, the PS 210i is packaged with a carrying case and custom ear tips to ensure the listener benefits from perfect sound isolation.
The Phiaton headphone lineup is even more exciting than the earphones. Featuring styled ear cups made of leather and carbon graphite like a fine Italian super car, the Phiaton headphones delight consumers' ears with punchy bass that does not over power mids and highs. The PS 320 Primal Series headphone was awarded Japan's Top Design Award for 'Good Design'. Features of the PS 320 include a coaxial dual driver system which consists of a 40 mm woofer to handle bass and mid range while a 16 mm tweeter is dedicated to handling treble.
Headphones.com is part of the AlltecStores network. The AlltecStores network consists of several specialty e-tail websites focusing on audio-visual and technology products. It's main website, AlltecStores.com is parent to several others e-commerce sites, including Headphones.com, ProjectorScreenStore.com, AllCartStore.com, PodiumAndLecternStore.com, AllWhiteboards.com, ProjectorBulbsandLamps.com, NationalAVSupply.com and more. Manufacturers interested in having their products on Headphones.com should contact pr(at)headphones(dot)com. For more information visit http://www.headphones.com
###