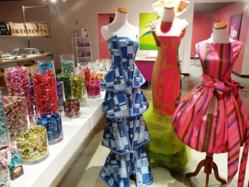 Seattle, WA. (PRWEB) October 25, 2011
Seattle Chocolates, a Seattle based chocolatier, announces its retail store Grand Opening and 20th Year Celebration Event on Saturday November 5, 2011.
Seattle Chocolates celebrates its 20th year crafting premium, all natural and kosher truffles and truffle bars with a unique meltaway smoothness. On Saturday November 5, a new retail showroom and seconds store will be unveiled to the public. This gallery space was created within the 65,000 square foot chocolate factory and boasts bare concrete floors and gleaming white tables that display more than 20 truffle varieties, 20 chocolate bars and brightly colored gift boxes. Complementing the chocolate's stylish packaging are artworks created from the wrap designs and even couture dresses made in bar patterns.
When: Saturday November 5, 10a – 4p
Where: 1180 Andover Park West, Seattle WA 98188
Event Details:

25% OFF everything for one day only.
Goodie Bags loaded with chocolate for the first 100 customers.
Chocolate tastings of Seattle Chocolates (20 unique truffle flavors and bars), Chick Chocolates (Strong Chick, Survivor Chick and friends), and J. Truffles (artisan ganache truffles made with fresh local cream).
Goddess Shift– Women Leading for a Change book signing by featured author and Seattle Chocolates owner and CEO Jean Thompson
Meet founder of Gilda's Club Seattle, Anna Gottlieb, and learn how you can support this free cancer support organization and win a "golden ticket" for a tour of the chocolate factory.
Meet Bri Seeley, local designer and 2011 Seamless in Seattle winner, who designed one of a kind dresses made in the Seattle Chocolates bar wrap patterns now on display in the store.
Meet Peter Stocker principle of Komforte Chockolates and taste their savory chocolate combinations.
Premium gift basket drawing and other exciting Grand Opening promotions.
Regular store hours are Monday through Friday 10am – 5pm and Saturdays through the holidays. The store sells product seconds as well as new gift box collections and offers free tastings. In addition, our Gift Concierge provides white glove service for wedding planning and corporate gifts including coordinating colors to match your theme, creating personalized messages and drop shipping to multiple addresses. For more information please stop by or call 1.877.427.7915.
About Seattle Chocolate Company
Founded in 1991, Seattle Chocolates is a woman owned company headed by CEO and owner Jean Thompson, based in Seattle Washington. We at Seattle Chocolates believe that chocolate shouldn't be bitter or over sweet. Without adding sugar to cover harsh flavor notes or tannins, we start with only the highest quality chocolate, carefully tempered to create a creamy, meltaway texture. As a result our truffles and truffle bars are always balanced and smooth, not cloying. We then search the globe for the finest ingredients to create unique but approachable flavor combinations that are 100% natural, crafted locally and Kosher certified. Seattle Chocolates is actively involved in supporting local non-profit organizations focused on women, children and cancer, such as Gilda's Club Seattle and City of Hope. Specific products are dedicated to raising money to fight breast cancer. 100% of the profits from Survivor Chick and the Extreme Dark Chocolate bar go toward this effort. Seattle Chocolates products are sold in select retailers throughout the country, at Seattle Chocolates new retail store and online at http://www.seattlechocolates.com.
###