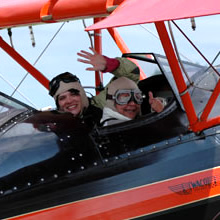 Choose an experience for an amazing Christmas gift this year. Something they'll remember forever!
Vancouver, BC (PRWEB) October 23, 2011
Christmas gift shopping starts early for the really organized and to help those looking for exciting and unusual gifts for Christmas 2011 Perfect Day Experiences, a Canadian experience gift company, offers a top 10 of this year's must have gifts for the hard-to-buy-for person.
#1 FA/18 Jet Fighter Simulator Experience - $99
#2 Martini Cocktail Masterclass for Two - $
#3 Segway Experience in Toronto's Distillery District - $
#4 Biplane Flight Over Ottawa - $180
#5 Dinner & Comedy at The Second City for Two - $159
#6 Toronto Dinner Cruise for Two - $187
#7 Drag Racing Experience Full Day - $265
#8 Flying Lesson - $197
#9 VIP Winery Tour, Lunch & Tasting for Two - $110
#10 Wine Tasting Experience for Two - $125
Perfect Day Experiences packages amazing experiences as Christmas gifts. It has more than 500 experience gifts to choose from on http://www.PerfectDay.ca and there's a great option for every taste.
"Christmas gift shopping starts in October for quite a few of our customers. They want to avoid the last minute rush and want to make sure they're buying a great gift. At Perfect Day we understand how hard it can be to choose the best option and so we have put together our top sellers from the past year to help show people what are currently the most popular options." Said a Perfect Day representative.
The idea behind Perfect Day is that people should give someone an experience as a Christmas gift, not simply another product or gadget that will find its way to the back of a drawer. An experience is something that the recipient will remember forever and you certainly can't say that of the most of the products out in the stores right now.
To view the Top 10 Christmas Gift ideas above and to browse all 500 experiences please visit http://www.PerfectDay.ca
###