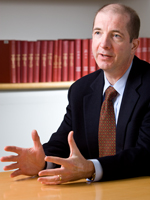 Patients have much to be grateful for.
Chicago, Illinois (PRWEB) October 23, 2011
Robert J. Motzer, M.D., a world renown board certified medical oncologist, was honored at the 10th International Kidney Cancer Symposium held recently in Chicago for his outstanding commitment to helping to advance research in renal cancers. In addition to delivering the keynote address at this prestigious meeting, Dr. Motzer was honored with a research award of $10,000.00 to be made in his name to support the work of a promising young investigator.
Dr. Motzer has published more than 300 original articles, scientific reviews, chapters and abstracts, and given lectures worldwide, in countries that include Japan, Brazil, Sweden, Turkey, France, Germany, Italy, and Spain. He is also a recipient of the Career Development Award from the National Institutes of Health and the Willet F. Whitmore Award for Clinical Excellence from Memorial Sloan-Kettering.
He also serves as an adviser to the Kidney Cancer Association (KCA), a charitable organization made up of patients, family members, physicians, researchers, and other health professionals globally. KCA funds, promotes, and collaborates with the National Cancer Institute (NCI), American Society for Clinical Oncology (ASCO), American Urological Association (AUA), and other institutions on research projects. It educates families and physicians, and serves as an advocate on behalf of patients at the state and federal levels.
Bill Bro, CEO of the charity, applauded Dr. Motzer's work, saying, "Patients have much to be grateful for, thanks to Bob's dedication to helping to improve the quality of life for the many thousands of people living with kidney cancer, as we continue to strive for a cure."
KCA was founded in 1990 by a small group of patients, including Eugene P. Schonfeld, Ph.D., and medical doctors in Chicago, Illinois. The organization reaches more than 70,000 people in 102 countries.
# # #