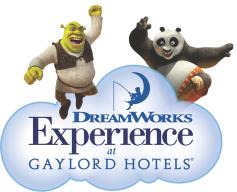 Nashville, TN (PRWEB) October 26, 2011
The familiar faces of Shrek, Alex the Lion, Po, King Julien, Puss in Boots and a host of other lovable characters from DreamWorks Animation SKG, Inc. (Nasdaq: DWA) are being spotted at Gaylord Hotels in the Nashville, Orlando, D.C., and Dallas areas. The gregarious group is delighting guests this holiday season at Gaylord Hotels with Christmassy DreamWorks Experience packages and several dynamic events and activities available only to visitors and guests as a result of the Gaylord Hotels alliance with DreamWorks Animation.
Signature ICE! events at all four resorts this year will be themed from two of DreamWorks Animation's most popular television holiday specials: Merry Madagascar at Gaylord Opryland and Gaylord National, and Shrek the Halls at Gaylord Palms and Gaylord Texan. Also at Gaylord Palms and Gaylord Texan, DreamWorks' 3D Theater Experience environments will be built for guests to check out DreamWorks Animation hits, enjoy fabulous dining, and meet characters from the movies. This Christmas, the much-anticipated Puss In Boots feature will be shown and guests can bring a piece of the movie home, as the price of admission also includes a Puss In Boots movie collectible as well as a red carpet photo opportunity with Puss in Boots himself. Gaylord Opryland will host DreamWorks' Holiday Shrektacular, a street party with music, lights, dancing and, of course, the DreamWorks Animation characters.
Gaylord Hotels will offer guests special Christmassy DreamWorks Experience packages at each of its resorts that, for the first time ever, will provide DreamWorks fans with an up-close and personal experience in a resort environment. Available for one-night with rates starting at $149*** per person and two-nights, with rates starting at $199*** per person, the package includes a series of exclusive offerings at each of the four Gaylord Hotels properties, as well as some optional add-on attractions:

ICE! featuring DreamWorks' Shrek the Halls and Merry Madagascar
Tickets to the popular ICE! attraction are included in all packages. The famed, life-sized winter wonderlands hand-carved from 2 million pounds of ice at each Gaylord Hotel will be themed this year to reflect two of the most popular DreamWorks television specials. At Gaylord Palms from November 16 – January 2, and Gaylord Texan from November 11 – January 1, ICE! featuring DreamWorks' Shrek the Halls will delight visitors with its fanciful depiction of the animated holiday television special. The characters will be brought to life through the colorful, interactive ice-sculptures and guests will re-live the heartwarming story as they stroll through delightful depictions of Shrek, Fiona, Donkey, Gingy, Puss in Boots and others.
Beginning November 18 and running through January 8 at Gaylord National and from November 18 through January 3 and sponsored by Delta Dental at Gaylord Opryland will be ICE!™ featuring DreamWorks' Merry Madagascar. These hilarious and colorful displays will depict the holiday special, and feature such scenes as Santa and his reindeer crash-landing on the island of Madagascar, and how Marty, Alex, Gloria and Melman hatched their scheme to save Christmas.
SNOW at Gaylord Palms and Gaylord Texan
Po and the Furious Five bring winter to some of the warmest states in the country as they make more than 130-tons of real snow at the Gaylord Palms and Gaylord Texan. The new Kung Fu Panda Awesome SNOW at Gaylord Palms will include underground snow tunnels, spanning bridges high above the snow below, snow tubing down the 64-foot pagoda slide and even throw snowballs at the fierce snow leopard Tai Lung and the cunning Lord Shen from the Kung Fu Panda movies. Beginning November 16 and running through January 2 at the Gaylord Palms, Kung Fu Panda Awesome SNOW is open to kids of all ages. Snowman and snow fort building is encouraged as 3-feet of the white stuff is kept in supply at all times at a crisp 55 degree Fahrenheit temperature.
At Gaylord Texan, Kung Fu Panda Awesome SNOW Tubing begins Sunday November 20 and runs through December 31, 2011. For the second annual SNOW, Kung Fu master, Po has created an eight-lane tubing hill that's filled with dragon-warrior awesomeness. The attraction includes both a speed driven extreme hill and a bunny hill covered in real snow!
ShrekFeast Interactive Character Meals* features delectable menu items only an ogre would love. Fairytale photo opps will abound as kids dine with Shrek and Princess Fiona and discover a Magic Fountain bubbling over with chocolate potions.
DreamWorks "Character Passport" Meet & Greets* offer a chance for enthusiasts to stroll through Shrek and Princess Fiona's beloved swamp for a face-to-face encounter with the green ogres; explore the island of Madagascar, that Alex the Lion, King Julien and the Penguins call home; and discover China's ancient Valley of Peace where Po has become a true kung fu master. Guests can even meet the star of DreamWorks' newest film – Puss in Boots!
Puss in Boots Scavenger Hunt* creates fun for the entire family. Everyone will enjoy searching the expansive, indoor atriums at Gaylord Hotels on this interactive scavenger hunt. Answers can be entered online to win the grand prize!
Family Photo* A professional photo of each family with their favorite DreamWorks character will be taken and provided to them as a special keepsake of their Gaylord Hotels Christmassy DreamWorks Experience.
DreamWorks Character Wake-Up Calls* The immersive experience continues first thing, with a wacky wake-up call from one of the DreamWorks characters. Guests can choose from a host of their favorites for a fun way to start the day!
DreamWorks Welcome Amenity at Package Check-In** Package guests will receive a special DreamWorks welcome amenity to commemorate their visit. (Limit one item per package, room.)
Additional events, attractions and activities are also planned to enhance the Christmassy DreamWorks Experience at Gaylord Hotels. Guests will also enjoy special holiday menus at the expansive dining outlets at each resort, attractive holiday merchandise at the myriad specialty shops, strolling carolers and exquisite, breathtaking decorations.
Travelers can book their Christmassy DreamWorks Experience by visiting http://www.DreamWorksExperienceAtGaylordHotels.com.
About Gaylord Hotels®
Gaylord Hotels® is a collection of four upscale, resorts which afford endless opportunities for leisure travelers and conventioneers. The hotel company's hallmark – "everything in one place" – provides vacationers with diverse dining options, quality spa and fitness center services, top-notch entertainment, on-site shopping and endless activities – all within each resort. Gaylord Hotels is a pioneer in the hotel and convention industry with properties in the nation's most desirable destinations. Gaylord Hotels include Gaylord Opryland® in Nashville, Tennessee; Gaylord Palms® in Kissimmee, Florida near Orlando; and Gaylord Texan® on Lake Grapevine near Dallas, Texas, and Gaylord National® on the Potomac in National Harbor, Maryland, which just celebrated its year anniversary in April 2009. Gaylord Hotels is owned and operated by Gaylord Entertainment (NYSE: GET), a leading hospitality and entertainment company based in Nashville, Tenn. For more information, please visit: http://www.gaylordhotels.com, or http://www.gaylordhotels.com/mediaroom.
*Available for all Gaylord Hotels overnight guests and DreamWorks Package guests.
**Available exclusively for DreamWorks package guests only.
***Per person based on double occupancy and availability, plus tax, resort fee and parking. Extra adult $89 plus tax each. Extra child $69 plus tax each. Extra nights and atrium upgrades may be available at prevailing rates. Not valid for groups or in conjunction with other offers. Not retroactive. Subject to blackout dates. Other restrictions may apply.
# # #