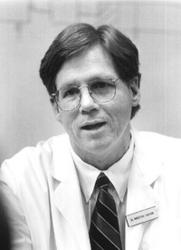 Patients are grateful for Marston's career-long dedication...
Chicago, Illinois (PRWEB) October 23, 2011
W. Marston Linehan, M.D., Branch Chief, Urologic Oncology Branch, Center for Cancer Research at the National Cancer Institute (NCI), was honored at the 10th International Kidney Cancer Symposium held recently in Chicago for his career-long commitment to advancing breakthroughs in kidney cancer research. In addition to delivering the Andrew C. Novick Memorial Lecture, an award of $10,000.00 is to be made in Dr. Linehan's name to support the research of a young investigator.
Dr. Linehan came to the National Institutes of Health after completing his training in urologic surgery at Duke University Medical Center in Durham, NC. He has held positions of increasing responsibility at the NCI and was part of the team responsible for identification of the von Hippel-Lindau (VHL) and hereditary papillary renal cell carcinoma (HPRC) kidney cancer genes. He has a wide range of scientific interests and accomplishments spanning molecular genetics of urologic malignancies and evaluation and treatment of patients with hereditary and sporadic forms of genitourinary cancers.
Bill Bro, CEO of the Kidney Cancer Association (KCA), praised Dr. Linehan saying, "As a survivor of kidney cancer, I know that patients are grateful for Marston's career-long dedication to unlocking the secrets of this dreadful disease, as we work together to improve the quality of life for the many thousands of people now living with kidney cancer."
KCA was founded in 1990 by a small group of patients, including Eugene P. Schonfeld, Ph.D., and medical doctors in Chicago, Illinois. The organization reaches more than 70,000 people in 102 countries and educates medical professionals at its annual symposia in the USA and Europe.
###