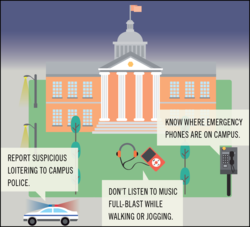 We created a beautiful infographic that students will enjoy seeing and reading. We hope it will have a greater impact on their safety behavior at school
(PRWEB) October 21, 2011
Colleges and universities work tirelessly to help students stay safe on campus. Unfortunately, the tips and advice they offer to students often fall on the deaf ears of busy students focused on the other more exciting aspects of college life.
Typically the community safety sections of college websites are rarely visited, except by anxious parents worrying about the safety of their children on campus. The editors at Infobia felt that what was needed was an educational resource for students that would appeal to the student population.
"We found that every university in the country has a community safety section of their website aimed at offering students advice on how to stay safe. The problem was that many of these tips were unappealing to students and were written in a way that students couldn't relate to. So we created a beautiful infographic that students will enjoy seeing and reading. We hope it will have a greater impact on their safety behavior at school," says Kevin Raposo, the editor of Infobia.
The safety guide was the inaugural project for Infobia and for a limited time they are offering free posters of the Ultimate Guide to Campus Safety to colleges and universities interested in posting them in their campus residence halls and classroom buildings.
To see the full graphic and get details on how to get free printed posters visit The Golden Rules of Safety on Infobia's site.
###