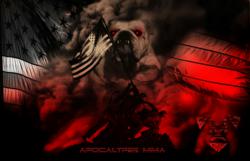 "No Company can lead an industry, act with rugged autonomy, innovate, or implement new ideas, if that company itself is deficient in its originality and perseverance."
(PRWEB) October 24, 2011
Apocalypse MMA has created a new MMA apparel line that is designed to be wearable works of art.
Apocalypse MMA is an American based company co-founded by two lifelong friends. Apocalypse MMA's founders include both a United States Marine veteran and an award winning artist.
Apocalypse MMA has differentiated itself by creating a truly unique apparel line for MMA fans worldwide. Apocalypse MMA has also created a gateway on their website for MMA fans to access the most up to date MMA news and MMA history.
Apocalypse MMA continues to be a major supporter of Women's MMA and currently has a Petition on Facebook for a Women's division in the UFC that includes over 25,000 supporters. With the rapid and monumental rise of MMA fans worldwide, Apocalypse MMA has found a way to once again set itself apart from the competition. With the recent successes of Hollywood MMA movies and the growing understanding of mixed martial arts, this trend will only increase in the future. For more information please visit us on Facebook or send an e-mail to rogerobrian(at)ultimateapocalypse(dot)com
###