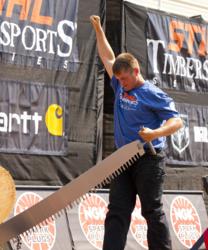 Virginia Beach, Va. (PRWEB) October 23, 2011
This month, Sports Illustrated magazine's weekly feature of outstanding amateur athletes, "Faces in the Crowd," spotlights the best collegiate lumberjack in the country, Daniel Jones, in their Oct. 24 issue. Jones, a 24-year-old, recent graduate in fish and wildlife management and forestry management from Haywood Community College in Clyde, NC, claimed the 2011 STIHL® TIMBERSPORTS® Collegiate Championship title in Oregon this August in front of ESPNU cameras. By posting professional-level times in the Collegiate Championship disciplines, Jones sliced through his competition and delivered a wood-chopping performance worthy of a Sports Illustrated mention.
In the STIHL TIMBERSPORTS Collegiate Championship, Jones beat out five of the nation's top collegiate competitors for not only bragging rights, but also the opportunity to be a part of the international rookie relay team at the STIHL TIMBERSPORTS Series presented by Ram Trucks World Championship in Roermond, Holland Sept. 3-4. With this win Jones also earned a spot as a professional competitor in the 2012 STIHL TIMBERSPORTS Series.
Collegiate competitors from more than 60 colleges and universities across the country competed in the 2011 STIHL TIMBERSPORTS Collegiate Series. One winner from each region and a wildcard pick advanced to the Championship and received a $1,000 scholarship from STIHL for his school. The six finalists faced off at the Oregon State Fair in four chopping and sawing disciplines including the single buck, standing block chop, stock saw and underhand chop. The 2011 STIHL TIMBERSPORTS Series Collegiate Series aired on ESPNU throughout the summer.
Jones' lumberjack skills on the international relay rookie team will also be featured in the STIHL TIMBERSPORTS Professional Series shows that begin airing on ESPN2 Dec. 11. Visit STIHLTIMBERSPORTS.US for the full TV schedule.
The STIHL TIMBERSPORTS Collegiate Series grooms student athletes to one day take their place among the professional elite. ESPNU provides a national platform to not only highlight the competition and the sport, but to also spotlight the hosting schools and their forestry programs.
Established in 1985 by STIHL, the number one selling brand of gasoline-powered handheld outdoor power equipment in America*, the STIHL TIMBERSPORTS Professional Series, billed as the Original Extreme Sport, attracts the world's top lumberjack athletes in a competition based on historic logging techniques. The Series is seen by more than 20 million viewers annually in more than 62 countries on networks such as Eurosport and ESPN, where it is one of the longest running shows.
Get the latest information and up-to-date news and video on all the STIHL TIMBERSPORTS Series competitions by going to STIHLTIMBERSPORTS.US. Access behind-the-scenes photos and video on Facebook and YouTube.
About STIHL Inc.
STIHL Inc. manufactures the world's largest selling brand of chain saws and produces a full line of powerful, lightweight, and versatile handheld outdoor power equipment for homeowners and professional users. STIHL products are sold through independent servicing power equipment retailers from coast to coast – not mass merchants. STIHL products sold through U.S. STIHL dealers are for distribution in the United States only. For more information or for the name of the closest STIHL retailer, call toll free 1-800-GO STIHL (1-800-467-8445) or visit STIHL's website at http://www.stihlusa.com.
*"Number one selling brand" is based on syndicated Irwin Broh Research (commercial landscapers) as well as independent consumer research of 2009-2011 U.S. sales and market share data for the gasoline-powered handheld outdoor power equipment category combined sales to consumers and commercial landscapers.
STIHL Inc. is the official underwriting sponsor of the STIHL® TIMBERSPORTS® Series. The series airs throughout the year on the ESPN2 cable network, and the STIHL® TIMBERSPORTS® Collegiate Series airs on ESPNU. The STIHL® TIMBERSPORTS® SERIES is the pinnacle event in lumberjack sports. Since 1985 the Series has grown to become the premier showcase of the decades old sport of lumberjacking with competitions held around the world.
The term TIMBERSPORTS® is a registered trademark owned by ANDREAS STIHL AG & Co. KG. and refers to the series of disciplines and competitions that are part of the STIHL® TIMBERSPORTS® Series. As such, it should not be used as a generic description of the overall sport of lumberjack sports. This trademark refers to all modifications of the term TIMBERSPORTS such as timber sports, or timbersport. The term TIMBERSPORTS should always appear in conjunction with "STIHL."
About the Ram Truck Brand
The Ram Truck brand continues to establish its own identity and clearly define its customer since its launch as the newest Chrysler Group LLC vehicle brand. Creating a stand-alone brand for Ram trucks has allowed the brand to concentrate on how core customers use their trucks and what new features they'd like to see. Whether focusing on a family that uses its half-ton truck day in and day out, a hard-working Ram Heavy Duty owner or a business that depends on its commercial vehicles every day, Ram has the truck market covered.
For 2011, the Ram Truck brand added the hardest-working Ram trucks — the Ram 3500, 4500 and 5500 Chassis Cab trucks — to its already award-winning truck lineup which includes the rugged and reliable Dakota, the Ram Cargo Van, Ram 1500 – the most-awarded Ram truck ever – and Ram 2500/3500 Heavy Duty pickups.
The 2011 Ram 1500 was named a Consumers Digest Best Buy and AUTOMOBILE Magazine All-Star. Ram 1500's smooth-riding suspension and 20 mpg, 390 hp HEMI V8 are just two of the reasons it beat the competition. Ram 1500 was also named the Truck of Texas by the Texas Auto Writers Association (TAWA).
The Ram Truck brand has the most innovative lineup of full-size trucks on the market. Ram Truck has emerged as a full-size truck leader by investing substantially in new products, infusing them with great looks, refined interiors, durable engines and features that further enhance their capabilities. Ram trucks now boast these segment exclusives:

Coil spring rear suspension on Ram 1500 for best-in-class ride and handling
Available RamBox® lockable and lighted bedside storage
In-floor storage on all Ram crew cabs
The largest cab in the market – Ram HD Mega Cab
Standard six-speed manual transmission on all diesel models.
Truck customers – from half-ton to commercial – have a demanding range of needs and require their vehicles to provide high levels of capability. Ram Trucks are designed to deliver a total package.
###