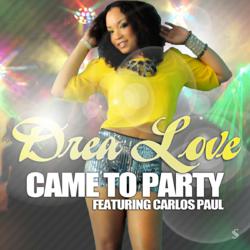 Drea Love's favorite quote is....Thine Ownself Be True!
Atlanta, GA (PRWEB) October 24, 2011
Starlight Entertaiment, LLC debuts Drea Love's universal sound with a national campaign. Drea Love's single "Came To Party" has been released digitally via Island Def Jam Tunecore. The single now available on iTunes, Amazon MP3 and EMusic has received great reviews from radio personalities, promoters and other entertainers. "Came To Party" music video will debut on World Star Hip Hop, Comcast urban stations and online media in the fourth quarter of 2011.
Atlanta born independent record label Starlight Entertainment, LLC has created a marketing campaign that will launch Drea Love's universal pop/r&b sound to a national audience. Drea Love adds her industry quality image, sound and creative marketing strategies to the Starlight Entertainment, LLC roster. Starlight Entertainment, LLC is currently working with industry professionals which will help cultivate their competitive approach the pop and r&b genre of music.
More about Drea Love:
Atlanta's newest pop/r&b artist Drea Love began with a gospel background as a young child. Growing up she knew that her love for music would become a career goal. Motivated to become self sufficient in the music industry, she has recently went from enjoying singing as a hobby to becoming a professional artist. Drea Love has a voice that appeals to the young crowd that enjoys feel good music and music catered to the heart. Working hard to set herself apart from the rest of the r&b artists in Atlanta, she incorporates a pop style which is accompanied with hard hitting lyrics and various features. Came To Party and Lights Down are her debut singles now available on iTunes; which she has performed and promoted in the metro Atlanta area. Not afraid of the stage, she is now working on her stage presence and creating constantly at Hot Beats Studios in downtown Atlanta. Not willing to compromise easily with a major deal, she has structured her company Starlight Entertainment as a major indepedent label and has created a publishing company through BMI. Her long term goals include reaching the lengths of her idols such as Lauren Hill, Teena Marie and Brandy Norwood. Follow her on Twitter: @Drea_Love2
For booking and inquiries contact:
B-Love
770-309-7676
###