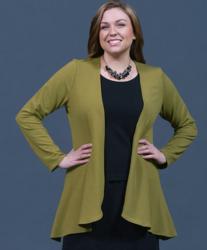 We've had a fair number of requests from environmentally conscious women to expand the size ranges we carry.
Harbor City, CA (PRWEB) October 25, 2011
Since its inception, online eco-fashion boutique, FaeriesDance.com, has focused on offering organic clothing items that are hard to find elsewhere. They have one of the largest selections of organic lingerie in the country and even offer a variety of sustainable, full-length gowns appropriate for black tie events. So their expansion into plus sizes is a natural growth step.
Demand for sustainability in the fashion industry has increased significantly in the last decade, and the eco-fashion industry has been rapidly expanding. Ten years ago finding much more than t-shirts made from hemp or organic cotton was a challenge. Today dozens of manufacturers are making clothing grown from pesticide-free and recycled materials, colored with low-impact dyes and produced without chemical finishing agents. Thus far, however size ranges remain very limited and full figured women have been under-represented.
While their Plus Sized Department is limited at the moment, FaeriesDance.com's owner, Adrienne Catone says she's confident it will expand quickly. "We've had a fair number of requests from environmentally conscious women to expand the size ranges we carry. Once word gets out that there are fashionable, organic clothing options in Women's sizes, the industry will follow the demand."
About FaeriesDance.com
FaeriesDance.com is an eco-friendly e-tailer offering sustainable apparel and specializing in hard-to-find items such as organic cotton lingerie and intimates. The company is named after the mythological woodland creatures that live in the heart of the forest, honor all things in nature, and who celebrate life with joyous abandon. In addition to providing beautiful organic clothing, FaeriesDance.com is committed to providing a complete environmentally-conscious shopping experience for its customers. Their clothing is made from sustainable fabrics and low-impact dyes. The company sources products from both U.S. and overseas manufacturers who ensure that all workers are treated fairly and are safe from sweatshop conditions. FaeriesDance.com has even gone to great lengths to provide consumers with environmentally sound gift wrapping options. They strive to help everyone "Go Green Right Down to Their Skivvies."
###