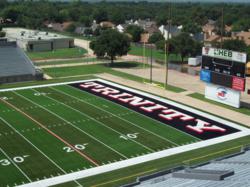 Hellas has proven to be a reliable, dependable, prompt, and professional partner
Austin, Texas (PRWEB) October 22, 2011
With a record of 8-0, it's clear that Trinity High School knows their way around a football field. It's no surprise that they've continued to turn to the leader in turf, Hellas Sports Construction, to tackle their new field projects.
Mike Fielder, HEB ISD's Athletic Director, is very pleased with Hellas Sports Construction and stated, "After an extremely rigorous process, Hellas was awarded our project. Having worked with their team previously, we're very familiar with the quality, dependability, and professionalism that Hellas offers."
After renovating Pennington Field 18 months ago, Hellas was chosen to return to HEB ISD to complete two additional outdoor fields, two track renovations and two multi-purpose activity center fields. The natural grass fields will be replaced with the Matrix Turf system and will require extensive excavation, substantial improvements to the storm water drainage system, and major concrete work. During this process, the track surface will be upgraded and new long jump, triple jump and pole vault facilities will be installed. A new fence surrounding the facility will also be added to enhance security.
Pennington Field has been honored as the most used stadium in the state of Texas. With a seating capacity of 12,500, the stadium has been called the "Star of Stadiums" by the Fort Worth Star Telegram and was named in an article as one of the "Best Places To See A High School Football Game."
The Matrix system is the turf industry's paramount product and is comprised of special monofilament (spinneret) yarns in different sizes, shapes and colors. This configuration creates the best traction and system stability possible, and under stadium lighting the color combination provides excellent light deflection. The environmentally friendly backing and high strength coating provides an unparalleled tuft bind. Its durability and playability is highly superior to other turf products available in the market.
Fielder went on to say, "We trust Hellas. Having done business with their team in the past, we're very comfortable moving forward with them. Hellas has proven to be a reliable, dependable, prompt, and professional partner."
About Hellas Sports Construction
Headquartered in Austin, TX, Hellas is one of the largest sport contractors in the United States. While specializing in the general construction of sports facilities and synthetic surfaces, Hellas also champions innovative turf manufacturing, base construction, field, track and tennis installation and maintenance. Notable clients include the Dallas Cowboys Stadium, the Cotton Bowl, Baylor University, Idaho State, the Alamodome and Northern Arizona University. Hellas controls all business processes to take its products straight to the end-user including marketing, sales, quality control and project management. For more information visit HellasSportsConstruction.com.
Partnering with legendary materials manufacturer, Royal TenCate, Hellas is positioned for continued success. TenCate Grass develops and produces synthetic turf components and designs systems for top-flight sport, recreation and landscape applications. Together with its partners, TenCate Grass strives to achieve a system approach. This gives users confidence in playing characteristics and lifespan. TenCate Grass has production facilities in Europe, the Middle East and North America.
# # #