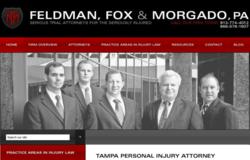 Tampa, FL (PRWEB) October 23, 2011
The Tampa law firm of Feldman, Fox & Morgado, PA recently launched their "Fight for the Injured" website, providing a valuable online legal resource for their current and potential clients.
The site offers a wide array of helpful information, removing some of the fear and uncertainty surrounding the legal process. Visitors can find basic information on Florida's Personal Injury and Auto Accident Injury laws. With the addition of their new Social Media links, Facebook, Twitter and YouTube users can stay up-to-date on important legal issues.
The Tampa personal injury lawyers of Feldman, Fox & Morgado have extensive experience representing victims of auto accidents. The firm has developed a reputation for maintaining high ethical standards while aggressively representing clients throughout Florida in Personal Injury legal matters.
"In order to obtain the highest compensation possible for our clients, we always prepare to go all the way to trial, if necessary, to secure justice. We are equipped to swiftly investigate and fully calculate damages, including the physical, financial and personal losses experienced by our clients, both now and in the future" says Managing Partner Mitchell Feldman.
Feldman, Fox & Morgado represents clients injured in every type of motor vehicle accident case including:

Auto collisions (rear-end, head-on, side impact)
Accidents caused by distracted drivers (cell phones, etc.)
Trucking accidents
Accidents caused by drunk drivers
Pedestrians hit by cars
Rollovers or injuries tracing to auto defects
Fatal auto accidents ( wrongful death)
Motorcycle accidents
Accidents stemming from poor road design or signage
Feldman, Fox & Morgado handles cases throughout Florida. Se habla Español. So if you or a loved one has suffered serious injury in a car accident, call 866-578-1607 today to schedule your free initial consultation.
Feldman Fox & Morgado
501 North Reo Street, Tampa, FL 33609
Toll Free: 866-578-1607
En Español: 813-440-4400
Feldman, Fox & Morgado represents the injured in the Tampa Bay area, Hillsborough County, Pinellas County, the Florida Central Gulf Coast region, South Florida, Southwest Florida, Central Florida and statewide, including Tampa, St. Petersburg, Clearwater, Brandon, Bradenton, New Port Richey, Sarasota, Ocala, Gainesville, Palm Harbor, Naples, Orlando, Ft. Lauderdale, Miami, West Palm Beach and the Florida Keys.
###