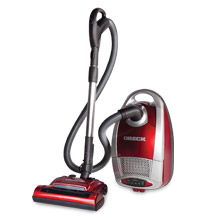 "Oreck is excited to offer its product in hhgregg retail stores. We welcome the opportunity to bring three of Oreck's most popular products to the consumer through this respected retailer," says Jeff Collins, Oreck's Vice President, Sales
Nashville, Tenn. (PRWEB) October 28, 2011
Oreck Corporation, a leading manufacturer of quality products in the homecare industry, announces the introduction of Oreck's select upright vacuums and its ultra versatile steam wand in more than 190 hhgregg stores.
Hhgregg is one of the nation's fastest growing retailers of home appliances and consumer electronics. All hhgregg retail stores will now offer the Oreck XL® Pilot™ upright vacuum, Oreck Quest® Pro canister vacuum and Steam-It® all-purpose steamwand. Oreck is well known for offering products that are easy to use, lightweight, powerful and durable.
"Oreck is excited to offer its product in hhgregg retail stores. We welcome the opportunity to bring three of Oreck's most popular products to the consumer through this respected retailer," says Jeff Collins, Vice President, Sales, Oreck.
The Oreck XL Pilot vacuum is great for picking up dirt, dust, dander and pet hair. Its 360° Glide tilts and pivots for incredible maneuverability. It features a powerful, pile-lifting roller brush that easily moves through carpet, a HEPA inner bag and two speed settings (high speed for carpet, with a low speed that is gentle enough to clean delicate Oriental and Persian rugs). It weighs about 10 pounds without the cord.
The Oreck Quest Pro canister vacuum is designed with performance, ease-of-use and maximum cleanability in mind. It provides 1500 watts of cleaning power, yet is remarkably quiet.
It comes with a complete set of onboard tools, including a six-foot hose, dusting brush and a crevice tool. The power nozzle adjusts for different carpet pile heights. HEPA filtration and disposable filter bags come standard.
The Oreck Steam-It all-purpose steamwand uses steam to remove dirt and grime and is an easy way to get a deep down clean without the use of chemicals or detergents. It has a unique vapor chamber making it easy to clean above the floor without spilling. The Steam-It heats up in less than a minute, creating a high-temperature, low-moisture dry steam that quickly removes dirt and deep cleans hard floor surfaces, windows, kitchen and bath fixtures, tile and grout.
About Oreck
Headquartered in Nashville, Tenn., Oreck Corporation is a leading manufacturer in the homecare industry, offering a variety of vacuum, air purification and other cleaning products. Oreck sells its products in hundreds of Oreck Clean Home Centers, as well as through phone and online direct sales. The company distributes products in the U.S., Canada and parts of Europe. For more information, please visit http://www.oreck.com.
###