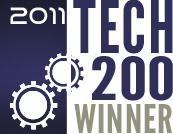 Los Angeles, CA (PRWEB) October 25, 2011
Information services company Lead411 has released its Technology 200 list of the fastest growing tech companies in the US. With over 600 applicants from across the nation, the list was narrowed down to the top 200 across multiple industries.
About Lead411's Technology 200
In its second year, the Tech 200 list ranks tech companies with the highest percent of revenue growth from 2008 to 2010. Lead411 calculates revenue growth by percentages vs. dollar growth. The full list can be found here.
Applicants were required to be privately held, U.S. based companies with at least $500,000 million in revenue in 2010. Finalists work within the following industries: Software, Hardware, Internet, Media, Advertising, Wireless, Telecom, IT Services, eCommerce, or Consulting.
"Despite the current recession, a lot of startups are still doing exceedingly well," said Tom Blue, CEO of Lead411, "With the Tech 200 list, we aim to see what makes them tick."
As part of their application, participants were given a survey about their marketing spend, funding, ROI and overall outlook. Survey results show that 60.2% of applicants had never received funding of any kind, and that 84% consider themselves profitable.
Some of this year's finalists include HubSpot, HubPages, TapJoy, Yodle, Zillow, SEOMoz, TRUSTe, Covario, VerticalResponse, MotionSoft, LifeLock, etc.
About Lead411
Information services provider Lead411 was founded in 2001 and has grown 40% yearly since inception without accepting venture capital financing. It is based in California, but has satellite offices in New York. In addition to their current subscriptions, it also offers corporate information, company news and awards for up-and-coming businesses.
###