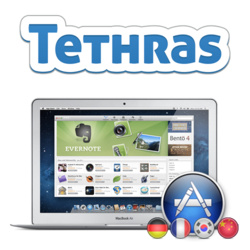 San Francisco, California (PRWEB) October 21, 2011
Today Tethras, a leading mobile app localization platform, announces its support for Mac OS apps. Previously available only for Apple mobile apps on iOS, Tethras now fully supports localization of Mac OS apps. Developers looking to take their Mac OS apps worldwide can sign up for Tethras' localization service by visiting http://www.tethras.com.
Just ahead of MacTech in early November, Tethras' localization service now allows Mac OS app developers to translate their apps into over forty languages, enabling them to reach new markets with ease and discover untapped streams of revenue. Tethras streamlines the localization process and places translation into the hands of trained human translators, eliminating the need for project managers. As a result, Mac developers can spend more time creating and less time worrying about updates and maintenance of their apps in numerous markets.
With Apple's release of Lion and the Mac App Store, it's apparent that apps will contribute to the future of personal computing. According to Apple's most recent keynote on October 4, there are nearly 60 million Mac users worldwide, with the Mac platform having grown 23 percent since last year. In comparison, the overall PC market has grown only four percent. With such rapid growth worldwide, Mac developers have the potential to target new markets of users with their apps.
"The Apple App Store favors localized apps and Mac developers who localize their apps have the best shot at success," said Tethras co-founder and CEO Brian Farrell. "To truly create a better, more individualized experience for the user, each piece of a Mac app translation, from the icon to the written text, needs to be catered to the specific targeted market. A complete localization will lead to increases in downloads and revenue."
As the world's first Localization as a Service (LaaS) platform, Tethras enables translators and developers to preview what a translation will look like within the app itself. This results in a more accurate translation. In addition, Tethras is a cloud-based service, so updating and managing translations is a pain-free process, seamlessly integrating with the app development workflow. As a result, developers and translators can work together more freely and efficiently.
The Tethras team will be attending MacTech in San Francisco on November 2. To schedule a localization consultation please email info(at)tethras(dot)com to arrange a time to speak with the Tethras team.
Watch this video to learn more about what Tethras does: http://www.youtube.com/watch?v=X1W4xcPvCAY
About Tethras
Tethras was founded in 2010 by Brian Farrell and Brendan Clavin to provide complete localization services for mobile app developers. The online, automated service is integrated directly into development workflow and provides a fast, uncomplicated solution at significantly reduced cost. With a full multi-region community of translation experts in over 40 languages, developers can reach global markets with ease.
###